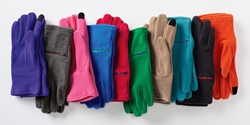 "This recognition by the Oprah team will introduce our brand to fashion consumers who may not have been aware of the special travel features inherent in each of our products." - Michael Alexin, president of TravelSmith
Novato, Calif (PRWEB) November 05, 2015
Today TravelSmith announced that their Touch Sensor Pocket Gloves will be featured in the 2015 edition of "Oprah's Favorite Things," an annual coveted list of the season's hottest gift items. This marks the first time TravelSmith has been chosen to be a part of the "Oprah's Favorite Things" holiday gift guide.
The team at O, The Oprah Magazine loves the gloves, calling them, "The next best thing to weatherproof hands: microfleece gloves, available in ten colors, with touch-sensor patches (so you can still swipe) and a zippered pocket to hold cash. Your go-to for quick errands."
A popular brand name among seasoned travelers, TravelSmith is becoming better known among fashion consumers. "As a trusted retailer in the travel space, our customers look to us for products that make travel as convenient, stress-free and enjoyable as possible," said Michael Alexin, president of TravelSmith. "This recognition by the Oprah team will introduce our brand to fashion consumers who may not have been aware of the special travel features inherent in each of our products. We thank Oprah and her team, and are thrilled to be on board."
The gloves provide fashionable and functional protection from winter weather. They feature cozy microfleece and sensored fingertip pads that enable touch-screen use without taking the gloves off. A small zippered pocket makes this winter accessory truly unique. The compartment is perfect for credit cards, keys, lip balm or extra cash. The gloves are available in a multitude of colors, including Black, Black/Red, Camel, Charcoal, Cobalt, Green, Holly, Orange, Peacock, Pink, Plum and Red.
Since 2002, "Oprah's Favorite Things" has included products from high-quality luxury brands to small, local businesses, all selected by Oprah Winfrey herself. As the most anticipated list of the holiday season, both consumers and brands alike look forward to seeing which items have been chosen.
The Touch Sensor Pocket Gloves are available on the TravelSmith website, http://www.travelsmith.com, as well as a first of its kind, "Oprah's Favorite Things" specialty shop on Amazon, at http://www.amazon.com/oprahsfavoritethings.
About TravelSmith
Founded in 1992 when two intrepid explorers and entrepreneurs, Scott Sklar and Chuck Slaughter couldn't find the right gear or reliable information to help them on their travels. Today, TravelSmith is a trusted brand for all things travel, including clothing, luggage, gear, accessories and advice. The catalog and online retail store is complemented by the top-rated Travel Center blog and strategic partnerships with well-known travel experts. Through the catalog, website, and Travel Center blog, TravelSmith meets its customers where they are and helps to take them where they want to go. TravelSmith is a proud member of the HSN, Inc. (HSNi) family of premium home and fashion lifestyle brands, including HSN, Ballard Designs, Chasing Fireflies, Frontgate, Garnet Hill, Grandin Road, Improvements, and TravelSmith.
***