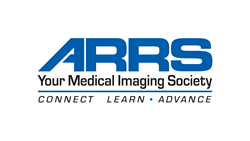 Leesburg, VA (PRWEB) November 05, 2015
On November 8, 2015, ARRS will join with radiological societies worldwide to celebrate the International Day of Radiology, marking the 120th anniversary of the day in 1895 that Wilhelm Conrad Röntgen discovered the existence of x-rays. As part of the celebration, ARRS will make online access to the American Journal of Roentgenology open to the public November 6 ̶ 8. Visit the journal at http://www.ajronline.org and view the most recent issues, special collections, video articles, and more from this world-renowned publication.
_____________________________________________________________________________________
Founded in 1900, ARRS is the first and oldest radiology society in the United States, and is an international forum for progress in radiology. The Society's mission is to improve health through a community committed to advancing knowledge and skills in radiology. ARRS achieves its mission through an annual scientific and educational meeting, publication of the American Journal of Roentgenology (AJR) and InPractice magazine, topical symposia and webinars, and print and online educational materials. ARRS is located in Leesburg, VA.
###