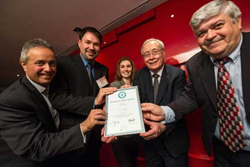 Lead To Win has helped dozens of technology businesses in our region since 2002 - Dr. Tony Bailetti
Ottawa, ON (PRWEB) November 05, 2015
The announcement was made Tuesday in Toronto, ON at an awards ceremony attended by members of the Lead To Win Council (http://www.leadtowin.ca) that included founder Tony Bailetti, Director of the Technology Innovation Management (TIM) program (http://www.timprogram.ca); Steven Muegge of the Sprott School of Business (http://sprott.carleton.ca/); Emily Byron of the TIM program; Rowland Few from the Lead To Win Sales Desk; and Ludovico Prattico, TIM alumnus and Manager of the Opportunity Review Boards.
"The extraordinary success of this program is due to the powerful leadership of Dr. Bailetti and to the dedication of his team,'' said Carleton University (http://www.carleton.ca) President Roseann O'Reilly Runte. "They offer the perfect example of people helping people to build a better community. They encourage the generation of great ideas and offer aspiring entrepreneurs the tools, knowledge and support needed to grow businesses, bringing financial rewards to the entire region."
"Lead To Win has helped dozens of technology businesses in our region since 2002," said Bailetti. "To grow, a new venture must earn the right to exist and find a business model that is stronger than the business models of its competitors. Lead To Win helps individuals with great ideas understand how to make money from growing their own technology businesses.''
Carleton placed seventh on the Top 10 list.
Lead To Win has helped companies started by entrepreneurs over the last five years generate $19.3 million in sales in 2014. Start-ups must apply for admission and satisfy a panel of external reviewers of their potential to earn $1M in revenues within three years. If successful, they get access to widespread support, from workshops and networking opportunities to professional office space and a sales desk inside the state-of-the-art Lead To Win accelerator.
UBI Global is an international benchmarking organization based in Stockholm which is hosting recognition events for top performing university business incubators in different regions of the world in 2015. The organization will announce global rankings on November 25th.
UBI Global has partnered in North America with the Ontario Centres of Excellence (OCE), which works with industry to commercialize innovation originating in the province's colleges, universities and research hospitals. An expanding focus for OCE is the development of the next generation of innovators through entrepreneurship fellowships and programs for students and youth across Ontario.
"Developed over two decades, Carleton's Lead To Win ecosystem supports students from all disciplines, helping them to create, launch and grow successful enterprises that positively impact our society,'' said Jerry Tomberlin, Dean of the Sprott School of Business.
Companies accepted by Lead To Win are expected to work toward annual revenue of $1 million within three years. They meet this goal by seeking sales around the globe and tapping into Lead To Win's free services, such as the sales desk.
In a benchmarking report published in July, UBI Global said top incubators provide better value than most by attracting high-potential startups, ensuring there are enough resources for operations and creating a supportive environment with efficient and customized training. Top performers also hold a higher number of events to ensure better access to market through a vast network of investors, partners and sponsors.
About Entrepreneurship at Carleton:
Carleton University has a history of innovation and collaborating with the private and public sectors to promote economic development. The university has long embraced the need to mentor people with innovative ideas. For the past decade, we have been leaders in encouraging and facilitating entrepreneurship among our students and alumni, and within the community. Our venture Accelerator can take an idea or solution to the next level of launching and growing successful businesses.