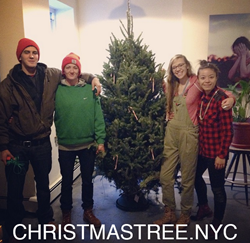 ChristmasTree.NYC offers easy online ordering and free delivery anywhere in New York City.
New York City, NY (PRWEB) November 06, 2015
Who's more stressed than a New Yorker during the Holidays?
No one.
That's not only the worst joke you've heard all year long, but the premise upon which ChristmasTree.NYC – a Manhattan based website – built their business.
Now, Holiday stress relief is just a click away.
Visitors to https://ChristmasTree.NYC can order their Christmas tree, tree stand, decorations, lights, wreaths, and additional services (like tree set-up and decoration) from the comfort of their own home.
But that's not all.
They deliver all of that to their customers across Manhattan, Brooklyn, Queens, Staten Island and the Bronx for no additional charge.
The company, established in 2012 by sibling business partners Dan and Morgan Sevigny, is a game-changer for many New York City residents.
"New Yorkers deal with enough day-to-day stress. It's hard living in this city," says co-founder Dan Sevigny.
"Christmas is supposed to be a time of magic, family, warmth and love, but behind it all there's this underlying stress that just eats away at people. It's this Holiday fatigue that makes you feel out of touch with the most important parts of the season. We're trying to change that by making things easier, and helping people focus on feeling happy and having a good time."
And so far, it seems, the duo has accomplished their task.
Free delivery, easy online ordering, and a focus on amazing customer service are the qualities that separate ChristmasTree.NYC apart--and keep the customers coming back year after year.
With a great product, and low prices, staying ahead of the competition is easy.
ChristmasTree.NYC only orders the highest grade "premium" Fraser Fir trees from their farmer partners.
Fraser Firs have an intoxicating classic "Christmas tree" aroma, and appear fuller than other varieties.
The company is able to beat their competitors in price as well.
They keep overhead costs low. Very low. And they pass those savings on to their customers.
In popular, high-rent areas like SoHo, the West Village, and Greenwich Village, renting sidewalk space can cost tens of thousands of dollars.
The owner of one Christmas tree stand located in SoHo Square told local news reporters that he pays $50,000 per year for the right to sell at that location. When the cost of labor, buying inventory and other factors is added to that figure, it's easy to see why the price of trees in Manhattan is sky high.
In stark contrast, ChristmasTree.NYC has one large lot in Brooklyn, a website, and a fleet of friendly delivery people.
Anyone in NYC can order online, and schedule their delivery in minutes at https://christmastree.nyc -- then, all that's left to do is kick back, relax and celebrate with good friends and family. After all, that's what the Holidays are all about.