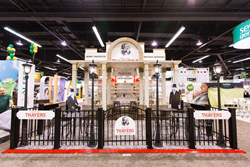 Absolute Exhibits has a policy of no post show billing. The upfront charges. That is how we win business and keep business as our clients know they are within their budget upfront and never have to concern themselves again - Todd Koren
Tustin, CA (PRWEB) November 04, 2015
The trade show exhibit calendar is filled to the seams with shows in January especially in Las Vegas, Orlando, and Southern California. Some of the largest yearly shows take place in January: CES, International Builders, Kitchen/Bath Industry, and Shot Show in Las Vegas; NAMM and International Spa and Salon Expo in Southern California; and the PGA Merchandise Show in Orlando. Not to mention AHR in Chicago and NRF in New York City. These are all major international exhibit shows with both foreign exhibitors and show attendees.
"Using a one-price system for a complete exhibit project from design, fabrication, interior elements to shipping to the show floor and installation and dismantle, allows our clients to put their emphasis on marketing and sales … the real meat and potatoes of the trade show floor. Additionally, Absolute Exhibits has a policy of no post show billing. The upfront charges include all monies owed, unless clients make changes. That is how we win business and keep business as our clients know they are within their budget upfront and never have to concern themselves again, " said Todd Koren, company CEO, in response to the question what sets Absolute Exhibits apart from other exhibit houses.
Traditionally international trade shows have exhibitors from around the world. Absolute Exhibits, a trade show exhibit builder, has a sizable group of foreign language speaking account executives in their sales offices and builds exhibits for many foreign-based clients. Absolute Exhibits' knowledge of multiple languages and customs has helped immensely in growing exhibit business throughout the world. Included among the languages spoken are Spanish, Portuguese, German, French, Japanese, Korean, Vietnamese, and Arabic. The Absolute Exhibits staff has proven to be far more helpful than just building a trade show exhibit on the show floor. This winter Absolute Exhibits will be fabricating everything from custom exhibits solutions to system exhibit rentals for clients from the United States and around the world. Trade shows offer an unequaled opportunity to discover and experience the latest developments and trends in a particular industry in a very short period of time and with face to face exposure.
About Absolute Exhibits
A leading exhibition firm, Absolute Exhibits provides clients with turnkey solutions for designing and fabricating exhibits while managing the entire trade show experience as a one-source trade show and convention exhibit resource. Established in 2000, with locations in Southern California, Las Vegas, Orlando, and Bucharest, Romania, Absolute Exhibits rents and sells custom and system exhibits at over 300 shows in the USA and in countries around the world.