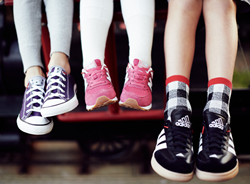 (PRWEB) November 05, 2015
Shoe Aficionado Nordstrom begins to sell Laceez brand online at Nordstrom.com
Today, children's sneakers get a makeover with new, easy, no-tie shoelaces that they will love and will make their shoes look even better. Laceez stretchy shoelaces can be added to a child's shoe and instantly they have a comfortable, stylish pair of slip-ons with a fun yet still traditional laced-up look. Moms and dads will no longer struggle with knots and dangling laces.
Due to a large number of requests, the next phase for Laceez is their adult line. As of early 2016, Laceez will be launching Laceez for Adults, and is looking to Kickstarter crowd funding to help them attain these goals and grow their already rapidly growing business.
Laceez are simple. They go through the shoelace holes and easily lock into place at the top holes on each side with Laceez' patent-pending end tips, creating a slip-on shoe without the bows and knots. Laceez stretchy shoelaces gives new life to old sneakers or some extra style can be added to a new pair.
Laceez are currently available for kids ages 3 to 12, and come in a wide range of awesome, festive colors for $7.99 a pair (http://www.mylaceez.com and now online at Nordstrom at http://www.Nordstrom.com ). They make a great stocking stuffer for kids, too.
Jason and Sarah Flores, a young couple from Anaheim, California whose daughter is on the Autism spectrum and struggles with fine motor skills, started Laceez. They went out to create a product and company that makes life easier for kids, parents and anyone else who wants to glide-on their favorite sneakers and just walk out the door.
Laceez is starting their Kickstarter campaign on Tuesday, November 3rd. Learn more at https://www.kickstarter.com/projects/370139820/laceez-no-tie-shoelace?ref=nav_search
For more information or to request samples contact sarah(at)chicexecs.com