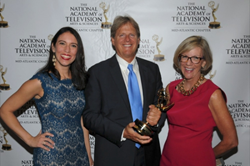 "Our role as ALJs is different than any other judges in the country. We wear many hats. But now we are expected to hear over 500 cases in a year and spend no more than two-and-a-half hours per case. All with less staff and resources." - Judge Marilyn Zahm
(PRWEB) November 09, 2015
One look at tonight's opening clip of Congressman Trey Gowdy's (R-SC) treatment of a sitting Social Security Disability judge may give you all you need to know about the state of siege experienced by today's SSD Administrative Law Judges.
This evening (November 9) at 7:00pm on the Philadelphia CNN-News affiliate WFMZ-TV, and online now, The American Law Journal presents "SSD: Blaming Judges on the Backlog." Christopher Naughton welcomes the Hon. Marilyn Zahm of the Association of Administrative Law Judges from CNN Studios in Washington, D.C.
Very few Social Security claims are approved the first time around; a majority of claimants must file an appeal. With disability backlogs now at historic highs, the Social Security administration is seeking ways to balance efficiency with justice. A tall order according to one high profile administrative law judge.
"Our role as ALJs is different than any other judges in the country," offers Zahm, who was at the center of the controversial Sixty Minutes program "Disability USA" in 2013. "We wear many hats.  But now we are expected to hear over 500 cases in a year and spend no more than two-and-a-half hours per case.  All with less staff and resources."
Joining Naughton and Zahm are claimants' attorneys Alan Polonsky of Polonsky & Polonsky and Jess Leventhal of Leventhal Sutton and Gornstein who also address the growing complexity of disability cases, the feasibility of government lawyers in the courtroom and the declining rate of approvals by Administrative Law Judges.
The American Law Journal, recent winner of a Mid-Atlantic Emmy® award for 2015 is the weekly talk-feature program airing on the CNN-News affiliate for Philadelphia, WFMZ-TV 69 to Pennsylvania, New Jersey and Delaware.  All programs are available at http://www.LawJournalTV.com
Next week: "Workers Comp at 100 Years- Trouble Ahead?"