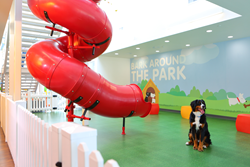 Newtown Square, PA (PRWEB) November 05, 2015
One look at Petplan's sunny corporate headquarters and it's obvious that "Pets Come First" is much more than their company tagline. From the barking dog doorbell to the snoozing Sheltie at the front desk, Petplan's suburban Philadelphia office proves there are four paws at the heart of everything they do.
When planning the office expansion, Petplan co-founders and co-CEOs Chris and Natasha Ashton took great care to incorporate pets into the design at every opportunity. After all, four-legged friends are as much a part of the fabric of Petplan's workplace as the two-legged team.
A typical work day sees dogs learning obedience in the picket-fenced indoor dog park, cats zipping in and out of conference rooms and pets curling up on plush perches or sneaking (vet-approved!) snacks from the kitchen. The expanded office even includes an on-site Foster Cat Pad, where felines from Philadelphia Animal Welfare Society (PAWS) climb, snack and nap while waiting for forever homes.
But pets don't get all the fun – the new space is also stocked with plenty of human treats, like bean bag furniture in collaboration spaces, a healthy snack bar and a two-story swirly slide, for times when taking the stairs seems dull.
At Petplan, the office isn't the only thing that's growing – they've also increased customer service hours to 24/7, added live chat, formed a Customer Experience department to help exceed policyholders' expectations, added more features and a Vet Locator to the Petplan App and hired new talent to help propel Petplan – and the pets they serve – into a healthy future. As the pet insurance market matures and more pet owners are researching providers, Petplan's innovative offerings put the company at the head of the pack and give existing policyholders even more reasons to keep rating them highly in online reviews.
"Loving pets is a job requirement here," says Chris Ashton, "but we hire people who are passionate about helping people, too. We provide much more than financial support to families when their pet is sick or injured – we also give them a sense that they're not alone, that we have their backs and are there to help them in times of need. Everything we do as a business is centered on the principle that pets come first, but the reality is that their people are never far behind."
It is this ethos that has helped the Ashtons build Petplan pet insurance from an idea at Wharton School of Business into a company that has been named one of Forbes magazine's America's Most Promising Companies for three years running. And today, Petplan consistently ranks among the very top pet insurance providers in the world.
The secret to Petplan's success seems to be the Ashtons' indomitable entrepreneurial spirit, combined with steadfast business savvy, an absolute passion for pets and a hearty appreciation for fun.
"We are constantly working to improve upon the products and services we offer our policyholders, and are committed to investing in technology to facilitate customer service," says Natasha Ashton. "We're also committed to the wellbeing and professional development of our team. When people love to come to work, it shows, and the compassion and professionalism of our employees allows us to constantly raise the bar and continue to grow as a company. Petplan is proof that passion, strong leadership and a dedicated workforce can help businesses grow and become market leaders."
For the latest news and innovations from Petplan, visit http://www.petplan.com.
###
ABOUT PETPLAN
Petplan is more than a pet insurance provider. We're dedicated to providing pet parents with the support, resources and tools they need to keep their pets not just surviving—but thriving—into their old age. Simply put, we aim to be the kind of company that will make our pets proud. For the third consecutive year, Petplan was listed among the top 50 companies on Forbes' annual ranking of America's Most Promising Companies – a list of 100 privately held, high-growth companies with bright futures. Petplan is the only pet insurance provider to have been included on Inc. Magazine's list of 500 fastest-growing, privately held companies in America.
Petplan's fully customizable cat and dog insurance policies provide comprehensive coverage for all hereditary and chronic conditions for the life of the pet as standard. Petplan policies are underwritten by AGCS Marine Insurance Company in the U.S. and by Allianz Global Risks US Insurance Company in Canada. The Allianz Group was rated A+ by A.M. Best in 2014. For more information about Petplan pet insurance, visit http://www.petplan.com or call 1-866-467-3875.