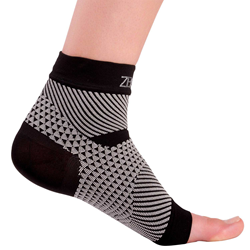 This Plantar Fasciitis Sleeve is the perfect addition to our compression line. We worked very closely with athletic trainers to find the perfect support and relief for arch and heel pain
Miami, FL (PRWEB) November 10, 2015
Zensah®, the premium athletic apparel brand, has been developing products to help runners prevent and relieve injuries for over 10 years. Zensah® is now taking the next step in injury prevention by adding a plantar fasciitis sleeve to its product assortment. The Zensah Plantar Fasciitis Sleeve is made in the USA and available now in specialty running stores across the country.
The Zensah Plantar Fasciitis Sleeve has key features that differentiate it from anything else on the market. T-Band Compression™ stretches over the foot in strategic areas to lift and stabilize the arch and heel. 3D Geo Technology™ offers raised ribbing and support over the T-Band area for additional comfort and support. In addition, the Zensah Plantar Fasciitis Sleeve incorporates silver ions, making it the only plantar fasciitis sleeve with anti-odor and bacterial protection.
"So happy to get our Plantar Fasciitis Sleeves from Zensah. They merchandise great with our other Zensah products and their service is fast and reliable as always!" says Polly from Fairhaven Runners and Walkers, a specialty running store.
The plantar fasciitis sleeve helps complete Zensah's sports medicine offering. Top products in Zensah's collection include compression leg sleeves to relieve shin splints, a compression knee sleeve to help with runner's knee, and a compression elbow sleeve that targets tennis elbow. All Zensah products incorporate details like innovative yarns, advanced seamless technology, and pin-point compression.
According to Suzanne Kerpel, Marketing Director at Zensah, "This Plantar Fasciitis Sleeve is the perfect addition to our compression line. We worked very closely with athletic trainers to find the perfect support and relief for arch and heel pain."
The new Zensah Plantar Fasciitis Sleeve can be found in specialty running stores across the country, including Luke's Locker.
About Zensah: Zensah® is a Miami-based company, specializing in sports compression apparel. Athletes and fitness enthusiasts, including runners, cyclists, triathletes, yoga enthusiasts, and soccer players, praise their seamless compression products. Zensah® offers compression products for performance and recovery. According to Leisure Trends Group Specialty Running RetailTRAK™, Zensah® is the number one-selling Compression Leg Sleeves in the USA for Running Specialty: http://www.zensah.com/