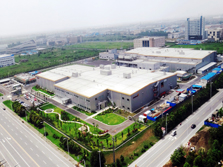 The Taizhou Supply Site Project is the perfect representation of the FOYA program.
Tampa, Florida (PRWEB) November 10, 2015
International Society for Pharmaceutical Engineering (ISPE) announced today AstraZeneca China as the 2015 Facility of the Year Awards (FOYA) Overall Winner. The winner was revealed at ISPE's Annual Meeting in Philadelphia, PA.
AstraZeneca China's Market Supply Solid Dose Facility located in Taizhou, China, was built to manufacture five billion tablets of high-quality, affordable medicines per year to the China market. The 533,000 sq. ft. facility was completed in a record time of 20 months, coming in 18 percent under budget and maintaining an exemplary safety record of 3.26M hours worked without a recordable incident.
"The Taizhou Supply Site Project is the perfect representation of the FOYA program," said ISPE President and CEO John Bournas. "AstraZeneca China's mission to deliver high-quality pharmaceuticals to China's growing population was carried out seamlessly through first-rate global engineering and operational organization. It demonstrates visionary pharmaceutical excellence undertaken in an emerging market."
AstraZeneca's project team incorporated lean design principles to eliminate operational inefficiencies and deliver optimum manufacturing performance. The facility far exceeded local environmental regulations and AstraZeneca's own stringent standards with a 99 percent Active Pharmaceutical Ingredient (API) removal rate from API containing waste water.
"AstraZeneca China's highly-integrated team is what made this winning facility a success," said Jim Breen, Chair of the FOYA Judging Panel. "We were impressed by the team's clear strategic plan and well-defined expectations, which allowed for the creation of this large facility in such a short amount of time."
The Taizhou supply site project was built to support the Chinese government's "Healthy China 2020" program to provide universal healthcare access to all of China by the year 2020. With two additional phases expected, the Taizhou Supply Site has the potential to expand to nine billion tablets per year, placing AstraZeneca in a position to supply China with affordable, safe, efficacious medicine in support of the government's healthcare reform plans for more than 1 billion people.
For more information on AstraZeneca China's award-winning facility and the FOYA program, please visit http://www.FacilityoftheYear.org.
About the Facility of the Year Awards
The Facility of the Year Awards recognize state-of-the-art projects utilizing new, innovative technologies to improve the quality of products, reduce the cost of producing high-quality medicines, and demonstrate advances in project delivery. The FOYA program provides a platform for the pharmaceutical science and manufacturing industry to showcase its accomplishments in facility design, construction, and operation, while sharing the development of new applications of technology and cutting-edge approaches.
About ISPE
ISPE, the International Society for Pharmaceutical Engineering, is the world's largest not-for-profit association serving its Members through leading scientific, technical and regulatory advancement throughout the pharmaceutical lifecycle. The 20,000 Members of ISPE are building solutions in the development and manufacture of safe and effective pharmaceutical and biologic medicines and medical delivery devices in more than 90 countries around the world. Founded in 1980, ISPE has headquarter offices in Tampa, Florida and Bethesda, Maryland USA. Visit: http://www.ISPE.org for more information.
For more information contact:
Maria Robertson
Senior Director, Marketing Communications, ISPE
Tel: +1-813-960-2105, ext. 404