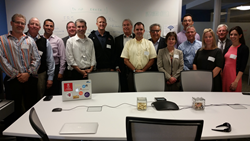 "I am excited for this opportunity to learn more about how to push personalized learning forward faster through the LELA fellowship," said Cabrera.
Washington DC (PRWEB) November 05, 2015
The Lexington Institute is excited to announce that two new district leaders will join the other LELA finalists iNACOL 2015 Blended and Online Learning Symposium next week as part of the group of finalists for the second Lexington Education Leadership Award Fellowship. With the addition of Superintendents Juan Cabrera of El Paso Independent School District and Jay Burkhart of East Pennesboro in Pennsylvania the group totals nearly 30 finalists all competing for the final 10 spots in this prestigious personalized learning fellowship.
The LELA fellowship is an exciting and highly selective 6-month program designed to expose district leaders to personalized learning and facilitate the first steps to implementation. The LELA finalists were selected from over 100 applicants from across the country.
"I am excited for this opportunity to learn more about how to push personalized learning forward faster through the LELA fellowship," said Cabrera.
The success of the first cohort set the bar extremely high for the second group of potential LELA fellows. "We had an incredible first cohort and so far the second group seems terrific. It is going to be extremely difficult to choose just 10 leaders for this fellowship," said Don Soifer, Executive Vice President of the Lexington Institute. "But I am so glad to announce the two newest additions to the group of finalists. My hope is that even those who do not move on as fellows become part of a community of personalized learning leaders learning together."
The finalists will participate in a specialized track and special networking opportunities at the iNACOL symposium in Orlando November 8-11th. The 10 selected as fellows will spend six month learning from each other and receiving support from Education Elements, the personalized learning organization selected by The Lexington Institute to provide technical assistance and work closely with each of the fellows on articulating their vision for personalized learning and developing a strategic framework for a district implementation. "Education Elements has provided excellent support to the first 10 fellows, acting as mentors, guides and facilitators and helping each of them to move forward with personalized learning. We are fortunate to be able to work with them again," said Soifer.
This cohort's finalists include: Raj Adusumilli (Arlington Public Schools, VA), Darryl Adams (Coachella Valley Unified School District, CA), Phil Auger (North Kingstown School Department, RI), Jay Burkhart (East Pennesboro Area School District, PA), John Carver (Howard-Winneshiek Community Schools, IA), Wanda Creel (Gainesville City School System, GA), Juan Cabrera (El Paso Independent School District, TX), Jason Ellingson (Collins-Maxwell, IA), Dale Ellis (Montgomery County Schools, NC), Jeff Hawkins (Kentucky Valley Educational Cooperative, KY), Kim Hendon (Roanoke City Schools, AL), Shon Hocker (Big Horn County SD #1, WY), Eric Hibbs (Marlboro Township Public Schools, NJ), Marvin Howard (Randolph County, GA), Richard Hughes (Central Valley CSD, NY), William Hunter (Polk School District, GA), Dennis Krueger (Howard-Suamico School District, WI), Valya Lee (Liberty County, GA), Kimberly Moritz (Randolph Central School District, NY), Michael Murphy (St. Clair R-XIII, MN), Brad Newkirk (Batavia School District 101, IL), Angelique Nedved (Lawrence Public Schools, KS), Scott Niven (Red Oak ISD, TX), David Pyle (Nuview School District, CA), Sandra Sheldon (Churchill County School District, NV), Richard Tomko (Belleville, NJ), and Kevin West (Roselle Public Schools, NJ).
The Lexington Institute will announce the 10 fellows by December 15th and work will begin in early January 2016. To apply for a future LELA fellowship, email lela(at)lexingtoninstitute(dot)org
About Lexington Institute: The Lexington Institute is a nonprofit, nonpartisan public policy think headquartered in Arlington, Virginia. Founded in 1998, its major areas of focus include education, national security, energy and logistics. Please visit lexingtoninstitute.org/category/education/ to learn more.
About Education Elements: Education Elements partners with districts to design and implement personalized learning through their consulting services and their platform Highlight. Ed Elements supports pioneering districts across the country including four Race to the Top Winners, 20% of the League of Innovative Schools and the Lexington Education Leadership Award Fellows. Their work helps districts to articulate their vision, build their capacity, design and implement new instructional models and, most importantly, impact student outcomes.
###