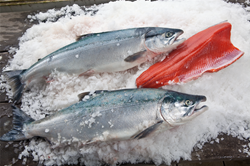 "In 2014, the White House established the Presidential Task Force on Combating Illegal, Unreported and Unregulated (IUU) Fishing and Seafood Fraud." Oceana Reveals Mislabeling of America's Favorite Fish: Salmon
Cordova, Alaska (PRWEB) November 05, 2015
Selective consumers of wild salmon were disappointed last week to read Oceana's Salmon Fraud report highlighting the issue of mislabeled salmon products at seafood counters and restaurants in a small sample of cities. Copper River and Prince William Sound fishermen were equally disappointed with the findings in the report but found the silver lining in the report with their predominantly fresh marketed salmon. Oceana found salmon during the fresh season were mislabeled at a much lower rate than frozen salmon year round.
Since 2012 the Copper River/Prince William Sound Marketing Association has advocated for the federal government to use its authority to combat seafood fraud to protect consumers as well as the 570 fishermen that harvest wild salmon from the Copper River and Prince William Sound regions of Alaska. The Food and Drug Administration, National Marine Fisheries Service and Federal Trade Commission all can and should take steps to end economic fraud and protect consumer health and safety as well as ensure that honest U.S. fishermen, processors, distributors and others in our industry compete on a level playing field while selling seafood to domestic and world markets.
Copper River & Prince William Sound salmon fishermen recommend that consumers ask for their salmon products by name. When the consumer insists on knowing where their salmon comes from, they help ensure accountability from their seafood retailer. Consumers should be specific when requesting Copper River, Prince William Sound or any wild Alaskan salmon whether at the grocery seafood counter or in a restaurant.
Wild salmon consumers can educate themselves to spot the differences in wild and farmed salmon as well as the differences between salmon and other fin-fish that have been mislabeled as salmon. The flesh of Copper River wild sockeye, also known as red salmon, is a brilliant red color. Copper River king salmon are a deep orange salmon color with wide sections of flesh packed with Omega 3 fatty acids. Wild salmon should have bright silvery scales. Their skin may even show marks where scales are missing at the collar and across the head. These marks are caused by gillnets, a type of fishing gear used to harvest salmon from the ocean. Wild salmon vary in size and weight and a case full of wild salmon will demonstrate this variation. Ask your reputable seafood counter for more tips on differentiating salmon from other species of fish in their cases.
For more information about Copper River and Prince William Sound wild king, sockeye and coho salmon and the fishermen and families that catch them please visit http://www.copperriversalmon.org or http://www.soundsalmon.org.