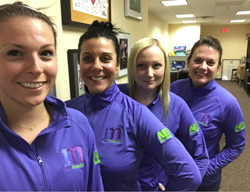 Tilton, NH Framingham, MA (PRWEB) November 05, 2015
NES Headwear, Tilton, NH, and One Mission, Framingham, MA, have partnered up in the fight of pediatric cancer by raising funds which make an immediate impact on the lives of children with cancer. NES Headwear, manufacturer of one of the most trusted embroidered headwear brands and embroiders of company logo's on corporate branded clothing is pleased to partner with One Mission to bring programs and services to over 1000 new patients each year. Programs that make living in the hospital easier and more fun for children fighting cancer.
"I was looking for a way that our company could give back. Ashley Haseotes, Founder/President of One Mission and her crew are amazing; I was taken back a few years ago when first meeting Ashley, learning about One Mission and the unbelievable work they do," says Scott Weldon, president NES Headwear. "The Buzz Off alone is such an amazing event, what a way to raise funds, celebrate and lift spirits in an energetic environment" continues Mr. Weldon.
Mr. Weldon goes on to say, "Any sponsor or friend of One Mission that purchases from NES Headwear whether is it embroidered hats, shirts, jackets, bags or even screen printed we are going to donate 10% of the proceeds to One Mission then on top of that as a company we are going to match that 10% donation with an additional 10% donation." All you have to do is mention One Mission.
"This pediatric care foundation is near and dear to our hearts and we hope to continue to support One Mission and Ashley for years to come" says Weldon.
For more information on NES Headwear or placing an order call Scott at 877-639-0900.
For more information on One Mission visit http://www.onemission.org or call 508-628-9090.