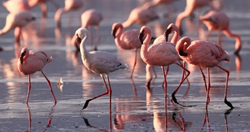 Just one departure remains on one of Goway's most popular Africa safari tours.
Glendale, CA (PRWEB) November 06, 2015
Goway Travel is lifting the lid on nature at its wildest, with just one departure remaining on one of its most popular East Africa Safari tours. Passengers who book by November 30 will save up to $1300 per person.
Starting in Nairobi, passengers will journey north to some of the country's less famous, but no less stunning national reserves – Samburu and Buffalo Springs. The itinerary then takes them to Mount Kenya National Park, and Lake Elementaita, part of the Great Rift Valley, known for its abundant bird life. Nowhere is this more visible than at Lake Nakaru, where vast numbers of flamingos flock to the shore alongside warthogs, baboons, and rhinos.
On to the famous Masai Mara, one of the few game reserves in Africa that preserve a traditional African culture – the Masai people – alongside spectacular wildlife viewing. It's also known for flowing across the border into the Serengeti, one of Tanzania's most famous National Parks. Over 70 different species of large mammal inhabit this vast area, well known for the annual migration, but a wonderful trip for wildlife lovers at any time of year. Almost as diverse is the Ngorongoro Crater, which protects over 25,000 large animals, as well as archaeological sites dating back 3.5 million years.
Passengers will depart from Arusha. That is, unless the sight of Mount Kilimanjaro looming on the horizon is too much to resist.
This East Africa Safari has just one departure remaining for 2015, departing Nairobi on December 4. The trip includes all accommodation, some meals, day trips and half-day tours, all game drives as per the itinerary, park entrance fees, an English speaking driver and guide, flying doctor evacuation coverage, a very special Hippo Pool Breakfast at Mara Serena Lodge, and a complimentary 188 Africa Safari Guide. Guests who book by November 30 will save up to $1300 on this strictly limited trip.
Since 1970, Goway has been providing unforgettable travel experiences to Africa, Asia, Australia and New Zealand, polar and idyllic island destinations, Europe and South America. Today Goway is recognized as one of North America's leading travel companies for individuals, families and groups to select exotic destinations around the globe. Goway has offices in Los Angeles, Vancouver, Toronto, and Sydney (Australia).
For reservations and information, visit http://www.goway.com, or call 1-800-387-8850.