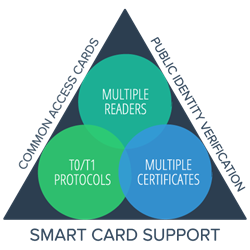 Miami, FL (PRWEB) November 10, 2015
Goverlan, a leader in remote management and IT remote control software, announced the release Goverlan v8.01.09, a new version of their solutions with enhanced support for highly secure environments using physical authentication such as Common Access Cards (CAC) or Public Identity Verification (PIV) cards to login and access network resources.
Government agencies and secure environments are relying on physical authentication to add security layers and meet compliance and security mandates set forth by HSPD-12 and FIPS-201. These added security layers present a challenge to IT support staff needing access to support remote machines. Remote control solutions are commonly used to assist a remote user or remotely administer servers. Without the ability to remotely authenticate on a computer because physically being there to swipe a card is required, the remote control solution becomes inoperable. Microsoft RDP provides basic smart card redirection support, however it forces exclusive access to the client session making it more challenging to support end users.
Goverlan includes smart card redirection, which sends your local smart card credentials to a remote system during a live remote control session without needing physical access to the machine. This is accomplished in a way that satisfies physical authentication requirements.
Goverlan CEO, Pascal Bergeot explains: "Our customer base expects that we innovate to accommodate the latest security requirements. Our focus remains on providing tools that combine the best in security and encryption with ease-of-access to support end-user and maintaining a productive workplace. This new enhancement puts Goverlan at the forefront of remote management tools that can satisfy today's demanding security and compliance mandates."
About Smart Cards
HSPD-12 (Homeland Security Presidential Directive 12) is a policy for a common identification standard for federal employees and contractors. It was written with the goal of creating secure and reliable forms of identification.
FIPS-201 (Federal Information Processing 201) was written in response to HSPD-12 with the goal of improving the identification and authentication of Federal employees and contractors for access to Federal facilities and information systems. FIPS 201 was developed to satisfy the technical requirements of HSPD- 12. FIPS 201 specifies Personal Identity Verification (PIV) requirements for Federal employees and contractors which includes the use of smart card or physical authentication.
Product Details
Goverlan v.8.01.09 is a free upgrade for all active Goverlan customers. Companies interested in learning more about Goverlan can contact us at sales(at)goverlan(dot)com.
Learn more about Goverlan Smart Card Redirection: http://www.goverlan.com/solution/smart-card-support.php
Learn more about Goverlan: http://www.goverlan.com
About Goverlan
Goverlan enables IT support to globally and dynamically control, manage, and support desktop and server infrastructure in-real time, without user interruption. This means administrators can get to the root of the problems quickly and resolve client issues more efficiently. Desktop support teams can be empowered with powerful tools to support all their users, including virtual user sessions. Chosen by IT professional worldwide, Goverlan is renowned for its ease-of-use and extensive feature set. Learn more at http://www.goverlan.com or contact Goverlan at sales(at)goverlan(dot)com.