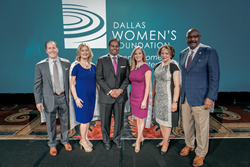 Dallas, Texas (PRWEB) November 05, 2015
Dallas Women's Foundation celebrated its 30th Annual Luncheon, presented by U.S. Trust, last Friday with the announcement that the organization has granted $30 million dollars in 30 years. The grant maker drives research, programming, collaboration and innovation in North Texas to support women and girls. The sold out luncheon, with 1,800 attendees, featured keynote speaker Eva Longoria and raised more than $1.2 million.
"This year's Dallas Women's Foundation annual luncheon not only celebrated our thirtieth anniversary, but it also demonstrated our commitment to improve the economic security of North Texas women. While we are proud to have reached this $30 million granting milestone, we know there is still so much work to be done to ensure women are full participants in our society," explained Roslyn Dawson Thompson, president & CEO, Dallas Women's Foundation.
The Foundation's concentrated granting efforts stem from its 2014 "Economic Issues for Women in Texas" report which found that in Texas, 30 percent of all households are female-headed, yet 53 percent of all households living in poverty are female-headed. Additionally, women who are living at or just above the poverty line in Texas face significant challenges to achieving economic stability for themselves and their families – including low-paying jobs, the high cost of child care, the lack of insurance benefits and the high costs of housing.
"A few years ago, we recognized the need to take bold action, especially around the economic security of Texas women, as they are increasingly the breadwinners or co-breadwinners in households," said Ellenore Knight Baker, chair, Dallas Women's Foundation's Board of Directors. "While Dallas Women's Foundation has always invested in economic security, we knew that our unique focus and expertise on women and girls could be the catalyst for a greater impact. Under the insightful leadership of Roslyn Dawson Thompson, and with the collective support of all of our donors, we have granted $13.5 million dollars since 2012, twenty-five percent of which has gone to economic security. The research is abundant about the disproportionate needs that women and girls face, and we believe that there has never been a more critical time to invest in and strengthen women."
The 30th Annual Luncheon, presented by U.S. Trust, was led by three couples, co-chairs Jane and Michael Hurst; Paula and Ron Parker; and Stacey and John Relton.
$75,000 Presenting Sponsor
U.S. Trust
$50,000 Sponsor
Jones Day
$25,000 Sponsors
The Suzanne Ahn, M.D. Speaker Endowment Fund at Dallas Women's Foundation Ernst & Young LLP
Frito-Lay, Inc.
The Men and Women of Hunt Consolidated, Inc.
Heather L. Hunt
Nancy Ann and Ray Hunt
Ashlee and Chris Kleinert
Texas Instruments
$15,000 Sponsors
Capital One Bank
Kimberly-Clark Corporation
Paula and Ron Parker
$10,000 Sponsors
ACRE Capital LLC
American Airlines, Inc.
Ellenore and Kirk Baker
Cecilia and Garrett Boone
FC Dallas (Dan Hunt) / Model Behaviors (Toni Muñoz-Hunt)
First Preston HT
Al G. Hill, Jr.
The Horchow Family
Mary Kay Inc.
David B. Miller Family Foundation
Elizabeth Suellentrop
$7,500 Sponsor
Patricia W. Fagadau
$5,000 Sponsors
AdvoCare
AT&T, Inc.
Bank of Texas
BB&T Wealth
Phyllis Fishman Bernstein
Julie Bleicher and Gail Griswold
Debbie D. Branson
Rose N. Broussard/Off the Bone Barbeque
Nancy P. Carlson
Civitas Capital Management
Ka Cotter
Dallas Bariatric Center
Dodee Crockett and Cindy Engles
Dave Perry-Miller Real Estate
Dr Pepper Snapple Group
Julie England and Maribess Miller
Exxon Mobil Corporation
Sheila E. Gallagher
Gruber Hurst Elrod Johansen Hail Shank LLP
Haynes and Boone, LLP
The Hart Group, Inc.
Highland Capital Management, L.P.
Trish Houck and Lyssa Jenkens
Helen LaKelly Hunt
Jane and Michael Hurst
Locke Lord LLP
Lynn Tillotson Pinker & Cox, LLP
Joy and Ronald Mankoff
Morgan Stanley
Northern Trust
Dianne H. Patterson
Selwyn A. Rayzor
Stacey and John Relton
Sharyland Utilities, LP
Sidley Austin LLP
Sue Spellman/Carter Financial Management
Trinity Industries, Inc.
Patricia J. Villareal
Williams Family Foundation
For a complete list of sponsors visit: http://www.dallaswomensfdn.org/luncheonsponsors
About Dallas Women's Foundation
Dallas Women's Foundation is the largest regional women's fund in the world. It is a trusted leader in advancing positive social and economic change for women and girls. The Foundation was built on the belief that when you invest in a woman, there is a ripple effect that benefits her family, her community and her world. Dallas Women's Foundation has researched, funded and demonstrated the ripple effect since 1985 in North Texas, granting more than $30 million since inception and over $4 million annually to help create opportunities and solve issues for women and girls. With the support of its donors, the Foundation unlocks resources to improve education and quality of life, give voice to issues affecting women and girls, and cultivate women leaders for the future. For more information, visit http://www.DallasWomensFdn.org, Facebook, Twitter, LinkedIn, Instagram or Google+.