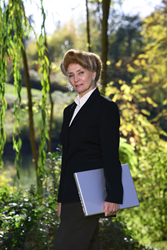 Grants Pass, OR (PRWEB) November 05, 2015
Dry eye syndrome affects an estimated 10 million Americans. Nearly half of computer operators experience occasional transient dry eye symptoms that and may evolve into more persistent symptoms. Fortunately, there are numerous medically approved methods for preventing and alleviating dry eye. According to Sharon Kleyne Hour® Power of Water® radio host Sharon Kleyne, one of the most important, and overlooked, is diet and nutrition,
Kleyne will discuss the role of diet and nutrition in dry eye prevention on her show of Nov. 9, 2015. For the live show or a podcast, go to http://www.SharonKleyneHour.com.
The globally syndicated, education oriented Sharon Kleyne Hour® Power of Water® radio show is heard weekly on VoiceAmerica (Health and Wellness, and Variety Channels) and Apple iTunes. The show is sponsored by Bio-Logic Aqua® Research – Water Life Science®, founded by Kleyne and specializing in fresh water, the atmosphere, body surface evaporation and dehydration. The Research Center's signature product for dry eye is Nature's Tears® EyeMist®.
Is it possible to eat one's dry eye symptoms away? According to Kleyne, it is but only if water is considered a food (the surface of the eye is 99 percent water). In addition to water, several foods and dietary supplements can improve visual health and tear gland functioning. These substances help the eyes to better withstand accelerated tear film evaporation and eye surface dehydration caused by dry air, pollution, disease and certain medications.
Aside from water, Kleyne recommends a diet rich in omega-3 fatty acids, which is especially abundant in cold water fish such as salmon, tuna, herring and mackerel. Omega-3 dietary supplements are fine as long as they contain primarily omega-3 fish oil in its DHA form. Omega-3's are anti-inflammatory. Since dry eye is considered a disease of inflammation, omega-3's can help calm an inflamed ocular surface so other treatments work more effectively.
Do carrots help dry eye? According to Kleyne, they do not. However, they benefit the eyes in other ways. Carrots contain a high percentage of a category of organic chemicals called "carotenoids," particularly lutein and zeaxanthin. These are also found in cantaloupe, yellow peppers, dark green leafy vegetables (particularly spinach) and corn (the prefix "zea" means "corn). They are helpful in maintaining retinal and macular health.
Avoidance of dehydrating foods is also recommended by Kleyne. These primarily affect the water inside the body. However, the amount of water in the body determines the availability of water in the tear and saliva glands. The most problematic food substances causing dehydration are sugar, carbonation, caffeine and especially alcohol.
Since drugs are ingested, they may be considered "food." Dozens of prescription medications, says Kleyne, have been listed as causing dry eyes and dry mouth. The list includes ibuprofen, interferon, lithium, eye drop preservatives and HCTZ. The most notorious was the antipsychotic drug thorazine, once widely used in mental hospitals. Also, any time a patient is put to sleep for surgery, they can expect to awaken with extreme dry eyes and mouth.
Drinking lots of water always benefits the eyes, says Kleyne. When the body contains abundant water, it can safely lose a little to evaporation. Kleyne advocates at least eight 8-ounce glasses per day in addition to all other fluids. Avoid alcohol, sugar and carbonation, which are dehydrating and don't overdo caffeine drinks. Unsweetened juice is fine as are high water content foods such as melons, lettuce and apples. Four of the eight glasses should be consumed as whole glasses and not sipped, with two glasses upon rising. People weighing less than 100 pound should drink half their weight in ounces daily (100 pounds = 50 ounces).
In addition to eating eye healthy foods, avoiding dehydrating foods and drinking sufficient water, Kleyne recommends water misting with a personal portable hand-held humidifying device to supplement evaporated moisture in eyes, eyelids and face. Nature's Tears® EyeMist®, from Kleyne's Bio-Logic Aqua® Research, provides a quick and soothing tear film supplement. Available at Walgreen, Amazon.com and AC Lens.
©2015 Bio-Logic Aqua® Research Water Life Science®. All rights reserved.