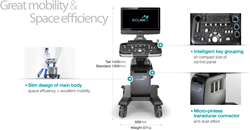 St. Cloud, Florida (PRWEB) November 06, 2015
SonoDepot recently attended the Florida BioMedical Society symposium at Disney's Coronado Springs Resort, the MDExpo in Las Vegas, and ISUOG's 25th World Congress on Ultrasound in Obstetrics and Gynecology in Montréal.
The company is the exclusive distributor and ultrasound service provider for ALPINION in three U.S. markets: Florida, Colorado and Western North & South Carolina.
ALPINION will introduce its newest compact portable ultrasound system, the E-CUBE i7, at the 101st Radiological Society of North America Annual Meeting (RSNA 2015) in Chicago, USA this November.
The E-CUBE i7 is the first laptop-style ultrasound system with a sliding keyboard cover. The new design protects the keyboard from contamination by gel, fluid, blood and dust. Additionally, the smart, ergonomic design of the E-CUBE i7 offers a solution for users who suffer from wrist pain that often accompanies the use of bulky, heavy systems. The convenient placement of the keyboard provides ample support for the user's arms and wrists. Users experienced a significant reduction in muscle tension and carpal tunnel pressure according to a study conducted by the Korea University Guro Hospital Department of Orthopedics.
Using ALPINION's unique, signature single crystal acoustic technology, E-CUBE i7 brings a new level of image clarity to compact ultrasound systems. With proven enhanced penetration in difficult-to-image patients, the convenient compact system reduces clutter allowing clinicians to view fine structures in exceptional detail.
Complete with a long lasting battery, the E-CUBE i7 moves from room to room with ease. With a 15.6 inch high resolution LED monitor and IPS technology, the E-CUBE i7 offers clear image viewing from all angles with reduced eye strain. The system's SSD technology means it's ready for scanning in less than 45 seconds with the added benefit of dramatically reduced fan noise.
About SonoDepot
Floyd McAuliffe, Founder and President along with his brother Jack McAuliffe, CEO, are the owners of SonoDepot and trailblazers of OEM-Independent Ultrasound Support providing superior service to healthcare providers in the U.S. since 1985. SonoDepot, based in Central Florida, is an exclusive sales and service provider for the revolutionary Alpinion Ultrasound product line featuring E-CUBE. The company also proudly repairs, services and sells the industry's most respected brands including GE, Philips, HP, and Siemens. SonoDepot's services include ultrasound repair, transducer repair, probe evaluation and maintenance. They are retailers of both new and refurbished ultrasound systems. With a rapid 15-30 minute response time and 24/7 nationwide service, SonoDepot is keenly focused on customer service. 90% of SonoDepot's ultrasound repair clients are repeat customers who refer colleagues.