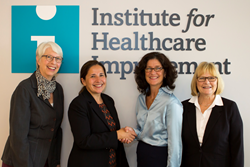 Boston, MA (PRWEB) November 05, 2015
Coverys, a leading provider of medical professional liability insurance and related services, announced that the Coverys Community Healthcare Foundation (Foundation) awarded a $25,000 grant to the Institute for Healthcare Improvement (IHI). The grant will sponsor IHI's group initiative, Building Reliable Systems for Test Result Management to Reduce Delays in Diagnosis and Treatment.
The IHI is a leading innovator, convener, partner and driver of results in health and healthcare improvement worldwide. The organization's initiatives are focused in five key areas: Improvement Capability; Person- and Family-Centered Care; Patient Safety; Quality, Cost, and Value; and Triple Aim for Populations. The Foundation's donation will apply to IHI's patient safety and healthcare quality efforts.
The efforts of the funded initiative will address the challenges associated with delayed diagnosis. This will include a deep dive into the process for testing and communicating results which is complex, often unreliable, and prone to human error. For instance, researchers estimate that one in 20 US adults suffer misdiagnosis each year in ambulatory settings, translating to almost 12 million adults per year, and there is a strong suggestion that the link between misdiagnoses and patient harm could impact almost half of this population.
"Coverys is committed to improved patient safety and enhanced quality in all health settings where our policyholders care for patients," said Donna M. Norris, M.D., chair of the Coverys Community Healthcare Foundation. "We are pleased to offer the support of the Coverys Community Healthcare Foundation to IHI for its ongoing endeavors to increase patient safety through this important new initiative."
"Funding from the Coverys Community Healthcare Foundation will enable IHI to further its work to ensure that patient treatment is proper and timely and will facilitate finding innovative ways to improve the health of individuals and populations," said Maureen Bisognano, president and CEO of the Institute for Healthcare Improvement.
Through funding, the Coverys Community Healthcare Foundation positively reinforces charitable organizations and innovative programs that improve patient care and safety, promote healthy lifestyles, address obesity and support individuals and organizations that provide healthcare services, including causes in which Coverys employees are involved. The development of the Foundation exemplifies Coverys' dedication to being an affirmative and active corporate citizen in the healthcare community and the communities in which it operates.
ABOUT COVERYS
Coverys is an innovative medical professional liability insurance provider dedicated to helping its policyholders and clients anticipate, identify and manage risk to reduce errors, eliminate inefficiency and improve outcomes. As one of the largest medical professional liability insurance providers in the country, Coverys is responsible for insuring over 32,000 physicians, dentists, and allied healthcare providers, as well as more than 500 hospitals, health centers and clinics from coast to coast. Coverys has consistently been included in the Ward's 50 for the past six years. In addition to its insurance products and service delivery to the healthcare industry, it also has established the Coverys Community Healthcare Foundation to support endeavors that focus on the improvement of patient safety as well as healthcare programs to reduce childhood obesity. For more information, visit Coverys at http://www.coverys.com.
ABOUT THE INSTITUTE FOR HEALTHCARE IMPROVEMENT
IHI is a leading innovator in health and healthcare improvement worldwide. For more than 25 years, we have partnered with visionaries, leaders, and front-line practitioners around the globe to spark bold, inventive ways to improve the health of individuals and populations. Recognized as an innovator, convener, trustworthy partner, and driver of results, we are the first place to turn for expertise, help, and encouragement for anyone, anywhere who wants to change health and healthcare profoundly for the better. To advance our mission, IHI's work is focused in five key areas: Improvement Capability; Person- and Family-Centered Care; Patient Safety; Quality, Cost, and Value; and Triple Aim for Populations. Learn more at ihi.org.
###