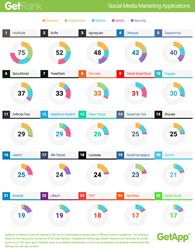 (PRWEB) November 06, 2015
GetApp, the largest cloud­-based business apps marketplace, has released its updated Q3 GetRank of the t​op 25 social media marketing solutions; Hootsuite took a big lead to remain number one from Q2, while Buffer and Agorapulse jumped into the top 2 and 3 spots this quarter, respectively.
Providing small and medium businesses with a first look at some of the best social media marketing solutions available on the market, the ranking is based on five unique data points. They include user reviews, integrations, mobile availability, media presence, and security. See a short video about it here.
Included with the ranking is an updated Q3 report, Marketing in the Cloud, with insights into the current state of social media marketing software.
As a contributor to GetRank's report, founder and former CEO of Moz Rand Fishkin says, "decreasing organic reach and engagement in social networks (Facebook and Twitter specifically)... mean that many businesses are forced to use social ads or lose a significant portion of their visibility/traffic from these networks." This points to the need for tools that can manage social media efforts efficiently and effectively.
Another important consideration is SEO, which is more salient now than ever before. As social media outlets are now indexed in Google searches, SEO-friendly tweets and Facebook posts can make a huge difference when it comes to social media: "rather than all pizza delivery places being listed under the same section in [the] yellow pages, good SEO is like paying for the half-page ad in [the] yellow pages that pulls all the attention away from the other pizza delivery places," says John Jantsch, founder of Duct Tape Marketing and another contributor to the report.
GetRank scores are calculated using various algorithms based on data gathered from GetApp and other third-party sources. User generated reviews are based on the number and star rating of reviews that an application has on GetApp, while integration scores are based on the number of listed software integrations that a vendor has. Mobile data refers to the availability of a mobile app, with data pulled from Google Play and the App Store, and media scores are based on the number of followers and fans that a vendor has on Twitter and Facebook. Finally, security is calculated using vendor responses to a security questionnaire based on the Cloud Security Alliance's Self-Assessment Form.
Click through to access t​he Q3 GetRank for Social Media Marketing software and download a copy of GetApp's Q3 research report, Marketing in the Cloud: Key Trends for 2015 on GetApp.
More about GetApp: GetApp, a Gartner company, is the leading premium business app discovery platform on the web. Headquartered in Barcelona (Spain), GetApp serves as a platform for user-generated and editorial reviews of software and apps for businesses.