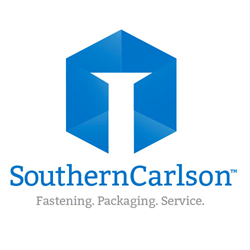 Phoenix (PRWEB) November 06, 2015
This year's annual STAFDA Convention marks the 39th year that the nation's finest distributors of specialty tools and fasteners will meet to chart the path forward for another year of service to the construction, dealer, and industrial markets. This year also officially marks the creation of a new company that is uniquely positioned to elevate the level of service a STAFDA member can provide to the market.
This new company is SouthernCarlson and it is the result of STAFDA members Carlson Systems and Kentec coming together with Southern Fastening Systems and Duo-Fast Carolinas to create an organization that will provide an unmatched level of service in both the fastening and packaging businesses.
Longtime STAFDA member and Omaha, Nebraska-based, Carlson Systems, brings nearly 70 years of experience in providing the Western and Midwestern markets with fasteners and fastening tools as well as packaging and packaging equipment. Based in Muscle Shoals, Alabama, Southern Fastening Systems has spent the last 30 years building a similar presence in the South and Southeast, while Kentec has been doing business in the Southeastern and Mid-Atlantic markets for more than 50 years. Bringing these organizations together as one unified business creates a greater scale and enables the new company to continue to provide the very best products at competitive pricing that our customers demand and deserve.
Bringing these individual regional leaders together was an easy decision, as Jim Whitley, company president explains, because despite their different backgrounds, each of the companies was founded upon and has remained successful due to an unwavering commitment to serving the customer. "When we started looking at each of our businesses individually, we realized the common thread was service. No matter what we sold, we all realized that if you consistently deliver exceptional service to the customer, you will keep that customer for life."
Going forward, Jim is most excited about the opportunity the new company has to provide exceptional local service with the backing of a national infrastructure. He explains, "We are confident that success in our business will always come down to personally serving the customer at a local level. Being involved in our communities, really knowing what our customers need, and being right there on site so that when a customer has a problem, we can take care of it right away. To be able to provide additional support for a customer in Colorado with access to new, specialized products and knowledge from an expert service tech in Georgia and to be able to do everything with a single set of part numbers on a single invoice is exciting for us, and for our customers!"
The new company will be unveiling its new name and identity to the public in time for the STAFDA Convention, with further rebranding coming to branch locations in the coming months. Visit http://www.southerncarlson.com to learn more.
###
About SouthernCarlson
SouthernCarlson operates more than 150 fastening, packaging and service centers in local cities and towns across 34 of the United States and Mexico. With corporate offices in Muscle Shoals, Alabama, and Omaha, Nebraska, and backed by nearly 900 employees across the country, SouthernCarlson is proud to provide tools, building materials, packaging supplies and equipment to building professionals and manufacturers with a level of personal service that is second to none.