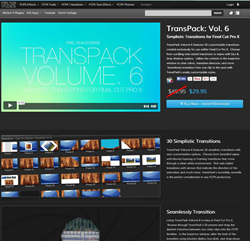 TransPack Volume 6's incredible versatility makes it applicable to almost any video style.
Aliso Viejo, CA (PRWEB) November 30, 2015
TransPack Volume 6 features 30 customizable transitions created exclusively for use within Final Cut Pro X. Choose from scrolling web-styled transitions to wipes with blur & drop shadow options. Utilize the controls in the inspector window to alter colors, transition direction and more. Seamlessly transition from one clip to the next with TransPack's easily customizable styles.
TransPack Volume 6 features 30 simplistic transitions with vast customization options. Choose from beautiful wipes with blurred layering to framing transitions that move through a clean white environment. Pick web-styled transitions with arrows that indicate the direction of the animation and much more. TransPack's incredible versatility is the perfect complement to any FCPX production. TransPack Volume 6's incredible versatility makes it applicable to almost any video style.
Using TransPack Volume 6 is easy in Final Cut Pro X. Browse through TransPack's 30 presets and drag the desired transition between two video clips into the FCPX timeline. In the inspector window, alter the look of the transition using intuitive sliders, hue dials, and drop-down menus. Easily customize transitions with the click of a mouse.
Use beautiful blurred wipes for fashion styles and Web-inspired arrow presets for corporate styles. Use framing transitions for a slick & modern feel. Add a beautiful transition for any FCPX production.
TransPack Volume 6 is a transition package exclusive to Final Cut Pro X. Utilize intuitive parameter controls found in the FCPX inspector window located on the top right of the screen. Simply drag a transition between two clips and allow TransPack Vol. 6 to do the rest. Dazzle with amazing self-animating effects.
"Final Cut Pro X is lacking some essential plugins. We intend to satisfy the needs of fans of FCPX around the world and get them what they need," said Christina Austin, CEO of Pixel Film Studios.
Established in 2006, Aliso Viejo, California-based Pixel Film Studios is an innovative developer of visual effects tools for the post-production and broadcast community. Their products are integrated with popular non-linear editing and compositing products from Apple FCPX. Apple, the Apple logo, Mac OS X, and Macintosh are registered trademarks of Apple Inc. in the U.S. and/or other countries. All other trademarks and trade names are the property of their respective owners.