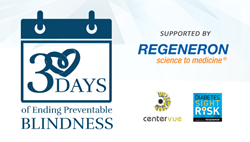 Our mission is to end preventable blindness. In order to realize this vision, we have to educate people about diabetes and the need for annual retinal exams. — Jason Crawford, CEO
Pensacola, FL (PRWEB) November 06, 2015
IRIS: Intelligent Retinal Imaging Systems announced the launch of the 2nd Annual 30/30 Retinal Screenings Campaign today. The initiative emerged from a desire to raise awareness around the risks of eye disease in diabetic patients and to support the community.
In recognition of the fact that November is Diabetes Awareness Month, IRIS will conduct at least 30 Diabetic Screening Events in 30 days across the country. This year's campaign is being supported by Regeneron Pharmaceuticals and CenterVue Inc. Regeneron is a leading science-based biopharmaceutical company that discovers, invents, develops, manufactures, and commercializes medicines for the treatment of serious medical conditions, including diabetic eye disease. CenterVue is a leading manufacturer of affordable automated ocular screening devices aimed at detecting ocular diseases and promoting large scale screening programs.
Jason Crawford, CEO of IRIS, says, "Our mission is to end preventable blindness. In order to realize this vision, we have to educate people about diabetes and the need for annual retinal exams. I cannot think of a better way to do that than by offering our partners the tools to do these tests free of charge during the month of November."
During the first IRIS 30/30 Campaign in November 2014, the organization and its partners uncovered eye disease in 35% of the patients screened. "The patients that were identified with pathology had little knowledge of the risks of diabetes, let alone that they themselves had active retinal disease. Our partners, in collaboration with IRIS, were able to further educate the patients on their disease and direct them to the right specialist to receive treatment," commented Sunil Gupta, MD, retinal surgeon and founder of IRIS.
By collaborating with primary care and eye care providers, these screenings will be provided at no cost to the patient. Through this program, IRIS and its partners aim to screen more than 1,000 patients across the United States.
About IRIS
Intelligent Retinal Imaging Systems is a Pensacola, FL based, privately held company. The IRIS system is the first and only FDA cleared retinal imaging and cloud-based telemedicine platform. The system enables primary care practices to more efficiently screen diabetic patients and enable them to receive their annual Diabetic Retinal Exam. IRIS and its partners are improving quality, expanding access, and reducing costs for Diabetic Retinopathy Exams across the United States. For more information, visit http://www.retinalscreenings.com.