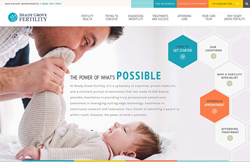 With 37,000 babies and counting and an indisputable track record of overcoming some of the most complex cases in reproductive medicine, the resounding response echoed Shady Grove Fertility's ability to make the impossible possible.
Rockville, MD (PRWEB) November 06, 2015
The power of what's possible. So many women and men facing infertility feel the opposite—a lack of power and control over their future. With Shady Grove Fertility's new anthem—the power of what's possible—the nation's largest fertility center looks to put the patient back in control of their family building options.
In the first iteration of this new branding endeavor, Shady Grove Fertility released a re-energized, more intuitive website that is fully-responsive and designed to provide women and men with reproductive health education and early fertility intervention through informative, accessible content, patient stories, and a range of support resources. The site also features a "How to Get Started" section as well as new content that navigates patients of all types—heterosexual couples, same sex couples, single women, individuals with cancer seeking fertility preservation, or couples with known genetic diseases—through a myriad of helpful resources.
"The relaunch of our website is an integral part of the ongoing evolution and growth of our practice," says Mark Segal, CEO of Shady Grove Fertility. "The addition of new office locations, new physicians, and recently expanded male fertility services speaks volumes to the growing need for quality fertility services in our region. With our continued growth came a need to offer the community a dynamic platform that represents each individual's unique journey," adds Segal.
Defining the anthem was an intentional, multi-step, multi-disciplinary process that involved concentrated collaboration among Shady Grove Fertility doctors, clinical/financial/operations team members, referring physicians, and patients, all of whom were tasked with defining what Shady Grove Fertility's stands for.
The new brand anthem needed to encapsulate Shady Grove Fertility's mission—to provide the most comprehensive, evidence-based, and compassionate fertility care possible—while also representing the organization's core values, as articulated by the staff: excellence, patient-focus, commitment, compassion, and integrity. It needed to speak to patients about Shady Grove Fertility's reputation in the field as a leading fertility center in the nation with exceptional success rates and patient service satisfaction ratings, which are the heart of Shady Grove Fertility.
With 37,000 babies and counting and an indisputable track record of overcoming some of the most complex cases in reproductive medicine, the resounding response echoed Shady Grove Fertility's ability to make the impossible possible, hence "the power of what's possible" was born.
The introduction of the hexagon as part of the brand's visual identity—a geometric shape that is found throughout nature and science—is a simplistic yet beautiful representation of strength and balance. When used in a pattern, the honeycomb graphic portrays a naturally collective element that tells an artful story of the diversity of solutions and paths that Shady Grove Fertility offers to its patients. At Shady Grove Fertility, care is delicately personalized and balanced to optimize the best chances for success, often starting with the least complex approaches first.
"It was our goal with the advent of the new website and relaunch of the brand to provide patients with greater access to relevant and comprehensive content that supports, educates, and empowers. With the expanded website, we hope to convey the importance of men and women being proactive about their reproductive health, whether they want to wait or start a family right away," states Eric A. Widra, M.D., Medical Director of Shady Grove Fertility.
About Shady Grove Fertility
Shady Grove Fertility is a leading fertility and IVF center of excellence offering patients individualized care, innovative financial options, and pregnancy rates among the highest of all national centers. Since 1991, more than 37,000 babies have been born to patients from all 50 states and over 35 countries around the world. Shady Grove Fertility physicians actively train residents and reproductive endocrine fellows and invest in continuous clinical research and education to advance the field of reproductive medicine through numerous academic appointments and partnerships with Georgetown Medical School, Walter Reed, and the National Institutes of Health. Today, 34 reproductive endocrinologists, urologists, Ph.D. scientists, geneticists, and more than 600 highly specialized Shady Grove Fertility staff care for patients in 18 full-service offices, and four satellite sites throughout Pennsylvania, Maryland, Virginia, and Washington, D.C. For more information, call 1-888-761-1967 or visit ShadyGroveFertility.com.