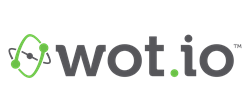 Santa Clara, CA (PRWEB) November 10, 2015
wot.io™, the data service exchange™ for connected device platforms, announced today that its new Ship IoT program starter kits enable chip manufacturers to easily pair their ARM mbed based hardware kits with the cloud, providing a perfect complement to their service. ARM's collaboration with wot.io empowers customers of ARM-based chip companies to develop and deploy IoT applications quickly with wot.io, through a choice of pre-integrated, scalable data services.
"Traditionally, there was a lack of out-of-the box IoT development solutions that enabled developers to build scalable IoT deployments from prototype to production," said Mitchell Golner, wot.io's vice president of product management. "Ship IoT combined with ARM mbed Device Server changes that. Together with ARM, we offer a robust end-to-end solution that enables IoT application developers to build and deploy secure, scalable IoT solutions with choice of third party data services. This collaboration enables faster time-to-market by leveraging the combination of ARM mbed connectivity and device management with the wot.io data service exchange."
Ship IoT with the ARM mbed IoT Device Platform enables the secure connectivity of devices with ARM Cortex®-M processor based chips via a common suite of IP networking, security, application layer, device management protocols, and a common OS foundation. ARM's platform supports open standards for device connectivity and device management as well as ensuring future device integration as the IoT market evolves.
"Our mbed technology is uniquely positioned to deliver a secure, reliable framework for the transfer of data, control and software updates to the billions of IoT and M2M devices on the horizon," said Coby Sella, vice president, products and technology, IoT business, ARM. "wot.io complements this by enabling developers to connect their data, seamlessly to the mbed IoT Device Platform, on demand with the necessary data services to build scalable IoT applications."
"Ship IoT delivers a compelling IoT cloud environment for IoT solution developers. By creating an IoT Cloud Starter Kit for ARM's licensees, we enable them to test a device-to-cloud solution quickly and deliver their project to production in days rather than months," said Tom Gilley, Founder and CTO of wot.io. "This changes the speed with which mbed can proliferate in the market. Together ARM mbed and wot.io's data service exchange will enable a range of IoT solutions."
Ship IoT enables connecting data from ARM mbed supported devices with a wide selection of data services. wot.io's first bundle of data services will include ARM mbed IoT Device Platform, Circonus, Scriptr.io, and bip.io. This Ship IoT bundle will be showcased in the mbed Zone at ARM TechCon in Santa Clara on Nov. 10 - 12.
Ship IoT bundles popular data services for building IoT applications and includes support for:
-ARM mbed IoT Device Platform combines the power of IoT related features enabled in ARM Cortex-M processor based chips with the ARM mbed Device Server to deliver a secure communication and device management solution.
-Circonus' unified monitoring and analytics platform combines extensive event visualization with alerting, and advanced analytics tools,
-Scriptr.io's cloud-based backend for IoT applications that provides a dynamic JavaScript based scripting engine and web based IDE for agile business rules on IoT data,
-bip.io's Web API Automation with connection to more than 75 services including Productivity (e.g. Google Drive, Dropbox); Messaging (e.g. MailChimp, Twilio); Social Media (e.g. Twitter, Facebook); Analytics (e.g. AlchemyAPI, Keen.io); and other services. bip.io is owned by wot.io.
About wot.io
Founded in 2014, wot.io is the data service exchange for connected device platforms. wot.io enables the enterprise customer to derive value from their data while accelerating time-to-market for Internet of Things (IoT) and Machine to Machine (M2M) implementations. wot.io's data service exchange of best-in-class data services enables customers to focus on building their solution while freeing them from the time consuming effort of making contractual agreements and technically integrating each data service. Through choice, time-to-market and scalability we help our customers drive ROI and increase revenue with their solution using analytics, business intelligence, data retention, device management, data management, monitoring, visualization, reporting, web API automation and other offerings.
wot.io and its logo, and data service exchange are trademarks of wot.io, Inc. All other company or product names, brands, trademarks, and logos are the property of their respective owners. All rights reserved.
###