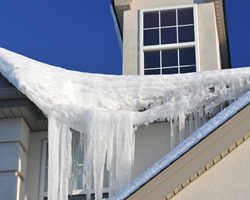 LINCOLN, R.I. (PRWEB) November 05, 2015
Thinking about the cold weather may bring a chill, but now is the time to prepare your home for winter. That's why Amica Insurance is sharing tips from the Insurance Institute for Business and Home Safety to help prevent costly damage from ice dams and frozen pipes.
Ice dams
Ice dams are thick ridges of solid ice that build up along the eaves, and they're caused by snow-covered roofs and freezing weather. Dams can tear off gutters, loosen shingles and cause water to back up into the house. To prevent ice dams:

Insulate the attic floor and the light fixtures in the ceiling below the attic to minimize the amount of heat entering the attic.
Keep the attic well-ventilated.
Remove debris from gutters and drains so water can properly flow through them.
Seal entryways to the attic, attic ducts, chimneys and fans with weather-stripping.
Freezing and bursting pipes
If a frozen pipe bursts, if can cause serious damage. To prevent frozen pipes:
Shut off and drain any exterior plumbing lines, such as hose bibs.
Ensure doors, windows and wall cracks are sealed properly, including utility service lines.
Place a monitored automatic excess flow switch on the main incoming water line to provide early detection of a broken pipe or valve.
If you have a sump pump, provide a reliable back-up power source, such as a battery back-up or generator, to ensure continuous power to the home.
For more information about preparing for inclement weather, please visit the Amica Storm Center.
About Amica Insurance
Amica Mutual Insurance Co., the nation's oldest mutual insurer of automobiles, was founded in 1907. The company, based in Lincoln, Rhode Island, is a national writer of auto, home, marine and umbrella insurance. Life coverage is available through Amica Life Insurance Company, a wholly owned subsidiary. Amica employs more than 3,400 people in 44 offices across the country. For more information, visit Amica.com.
Media inquiries can be sent to MediaCenter(at)amica.com.
Twitter: Amica
Facebook: Amica Mutual Insurance Co.