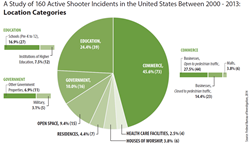 With 27 years of experience in municipal and specialized law enforcement, this program offers what I believe to be the most accurate and up-to-date training that schools and security services need to successfully keep their students and campuses safe .
(PRWEB) November 19, 2015
Nowadays, safety is everyone's concern and responsibility. It is clear to parents and educators alike that school should certainly be a safe place for children to access their education. However, a surprisingly large amount of evidence shows that incidences of violent behavior on school campuses are on the rise. A 2014 FBI study of 160 active shooter incidents in the United States shows that 24% of the shootings happened in an educational environment and that 16.9% of these shootings affected grades pre-k to 12th grade. It is more important now than ever before for schools to become better equipped on how to handle situations that are potentially violent or, in worst cases, have already become violent.
In response to the recent increase of on campus violence in schools, ZipEdTech, a full service provider of business intelligence solutions and educational technology is offering an engaging, interactive training course available for online learning 24/7. It focuses on better preparing security personnel on K-12 campuses in California for potential dangers and violence with their School Security Training Course SB1626.
As required by the State of California, under Senate Bill 1626, any security guard that works more than 20 hours a week at a K-12 school district or California community college district must complete training by a Bureau of Security and Investigative Services (BSIS) approved training facility (ZipEdTech TFF#1482/TFB#1306). ZipEdTech's School Security Training Course is a 24-hour block of instruction that meets the state requirements mandated by SB 1626. The program is designed for any employee of a school district who performs any type of school security function. These functions are defined as providing security services as a watch person, security guard, or patrol person on or about premises owned or operated by a school district to protect persons or property, to prevent theft or unlawful taking of district property of any kind, or to report any unlawful activity to the district and local law enforcement agencies.
Key topics of the program include:

Roles and Responsibilities
Law and Policy Pertaining to Juveniles and Schools (Crime Versus Code of Conduct/Discipline)
California Criminal Law and Civil liabilities
Working Effectively with Students
Understanding School Violence, History of School Violence, Mandatory Reporting, Restraining Orders, Parenting Arrangements, and Orders for Protection.
Awareness Training on Handling Bomb Threats, Gangs, Active Shooters, Property Crimes, Fights, Basic Firefighting, Bullying, and Youth Mental Health First Aid.
The engaging, video enriched online program includes up-to-date material in compliance with the State mandate. Lessons feature interactives that test the students' knowledge as they advance through the lecture material. Students are tested on the content as soon as they learn it. The program also offers supplemental resources available to students for future reference and further education. Upon successful completion of this course, students will be in compliance with SB 1626 training and eligible to perform security work for a local education agency.
According to Program Director and former Deputy Chief of Police, Harold Hunter, "With 27 years of experience in municipal and specialized law enforcement, this program offers what I believe to be the most accurate and up-to-date training that schools and security services need to successfully keep their students and campuses safe to the best of their ability. And that is what the community and parents of the children we are here to protect expect from us. It's our duty."
The increase of violence on campus is not only a concern of the schools but also a large concern of the surrounding communities who are actively looking for positive ways to respond to this ongoing school violence and to keep their children safe. ZipEdTech's School Security Training Course's objective is to educate the people at the center of these incidents with the history, philosophy and knowledge necessary to protect their students, and themselves, against dangerous acts on campus. Learning preventative measures ahead of time can give campus employees the tools and confidence to deter future violent situations for them and those they are responsible for.
ZipEdTech (dba http://www.mysecuritytraining.com) is currently offering an introductory price for their SB 1626 School Security training course. To learn more about ZipEdTech's Security Online Training courses, call them at (855) 212-6828 or visit http://mysecuritytraining.com/courses/school-security-training-sb1626/?utm_source=ifa&utm_medium=pr_11.17.15&utm_campaign=school. For more information, please contact Maria Acosta at 855-212-6828 / maria.acosta@mysecuritytraining.com.