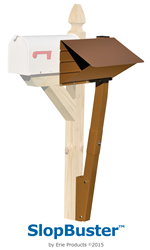 We developed the SlopBuster™ to fill the need to safeguard against mailbox damage, and lost mail".
Sandusky, Ohio (PRWEB) November 07, 2015
The SlopBuster™ Mailbox Protector is the original snow and slush (slop) deflector for roadside and rural mailboxes. Developed by Erie Products to protect mailboxes from the impact of snow, slush and ice thrown by passing snowplows, the easily installed SlopBuster™ can protect your mailbox this winter.
SlopBuster™ is a patented, highly engineered system built tough in the USA. The heavy-duty construction reduces damage that can lead to costly mailbox replacement. SlopBuster™ is manufactured of 16-gauge powder-coated steel to resist corrosion. It comes with zinc-plated rust- resistant screws and bolts.
Mike Richardson, President, Erie Products, said," The SlopBuster™ was developed to safeguard against mailbox damage, and lost mail."
The SlopBuster™ is designed to deflect snow, slush and ice away from mailboxes. This snow and slush can hit a typical mail box with 400 to 600 pounds of force, causing damage to the mailbox. The patented design both deflects and absorbs the forces of snow and slush thrown from snowplows.
The SlopBuster™ works with any style mailbox. It comes with all the parts you need for a wood post mounted mailbox, including all fasteners for easy assembly. It is available only online at http://www.slopbuster.com
Erie Products is a USA manufacturer of residential and commercial products.
Erie Products. – 202 East Fox Road – Sandusky, Ohio 44870 – 419.433.8293
http://www.eriep.com- sales@eriep.com
http://www.slopbuster.com Facebook -https://www.facebook.com/SlopBuster
Picture attached – SlopBuster™
Key words – Mailbox protector, Snow deflector, Rural mailbox, Roadside mailbox
###