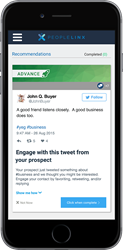 The new release adds automated Twitter listening and a new training curriculum to the award-winning social selling platform.
Philadelphia, PA (PRWEB) November 10, 2015
PeopleLinx, a pioneer in social sales enablement, announced today the launch of PeopleLinx 4. The new release adds automated Twitter listening and a new training curriculum to the award-winning platform for social selling guidance.
Twitter listening is an untapped opportunity for sales, according to PeopleLinx CRO David DiStefano. Twitter is a highly effective channel for interacting with prospects and customers. However, most salespeople don't know if their prospects are tweeting, or how to engage when a prospect does tweet.
"PeopleLinx 4 delivers Twitter with a purpose. It alerts salespeople immediately when their prospects and customers post to Twitter. It guides Salespeople on response etiquette, so they engage appropriately and confidently," DiStefano said.
"Best of all, it runs automatically on the company's CRM data. So salespeople don't have to follow their prospects or build Twitter lists," DiStefano added.
Customers are excited about the new, integrated platform. "Many of our associates need a lot of support to incorporate social channels into their workflow. PeopleLinx 4 reinforces critical behaviors in a simple, personalized experience driven from our enterprise data. We haven't seen anything else like it," said Mark Waxman, Chief Marketing Officer of CBIZ (NYSE:CBZ).
The addition of Twitter listening to the product suite cements PeopleLinx's status as the most comprehensive social selling solution on the market.
"PeopleLinx delivers all five pillars of social selling: personal branding, connecting, sharing, measuring, and now listening. No other solution can make that claim," said PeopleLinx CEO Kevin O'Nell.
The new release also includes a new training curriculum, personalized to each user's individual skill level. "We've worked with the world's top instructional designers to help PeopleLinx users advance at their own pace through a progressive journey of learning and action," said DiStefano, who is also a 20-year leader in the sales training industry.
PeopleLinx 4 progressively moves salespeople through eight different levels of social selling competence. Salespeople earn badges as they complete each level, and unlock new capabilities as they go.
"Whether you're a social media novice or a power user, we're taking the fear and doubt out of social," O'Nell said.
PeopleLinx 4 also includes a live chat feature for on-demand LinkedIn and Twitter support.
"It's live helpdesk support for LinkedIn and Twitter questions, which was inspired by the popularity of our 1-1 training sessions. Salespeople ask our experts about everything from profile updates to connection etiquette and hashtags," according to CEO Kevin O'Nell.
"Large companies need this level of support in order to integrate social channels into their workflow," O'Nell said.
About PeopleLinx
PeopleLinx drives sales behaviors that engage buyers and advance deals. Our award-winning technology integrates social selling and content marketing with sales process and CRM. Customers include Fortune 500 leaders in high-tech, finance, manufacturing, and professional services. To mobilize your team, visit our website.