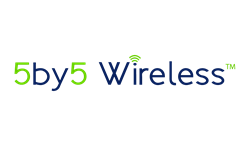 We see 5by5 Wireless and 5Bars Wireless as an economical solution for the wireless trade to consider in regards to building HetNet convergence solutions
(PRWEB) November 06, 2015
Greg Waite announced that 5by5 Wireless™ and 5Bars Wireless™ will be the next big HetNet convergence solution breakthrough in creating a synergy with small cells, smart buildings, highways and other wireless sources.
A heterogeneous network (HetNet) connects devices with different operating systems and protocols, and a HetNet often indicates the use of multiple types of access nodes in a wireless network. A Wide Area Network can use macrocells, picocells and/or femtocells to offer wireless coverage in an environment with a variety of wireless coverage zones, ranging from an outdoor environment to office buildings, homes and underground areas. HetNet can then be defined as a network with complex interoperation between macrocell, small cell and, in some cases, WiFi network elements which provides a mosaic of coverage, with handoff capability between network elements.
At the recent 2015 HetNet conference, Jonathan Adelstein, CEO of the wireless trade association PCIA, said that all four large carriers are going to invest heavily in densification by adding hundreds of DAS and small cells as part of network improvement strategies. Mr. Adelsetien said that investment is expected to reach $212 billion in LTE infrastructure investment.
Mr. Waite says that 5by5 Wireless is the ultimate HetNet partner for the industry, as a 5by5 Wireless solution provides large area wireless internet coverage for economical internet and wireless connectivity.
Developed by a team of technology entrepreneurs with many years' experience in wireless communications, the full duplex wireless communications system is a 100% hardware solution. Implementation of a single 360-degree antenna affords greater data throughput, providing wireless coverage up to 20 miles (32 km) for a total circular coverage area of 1,250 square miles or 3,200 square km from one low cost base station. This makes it ideal for the bringing together a broad base of participating cells, small cells and antennal wireless nodes and deployment systems.
"Our solution is the ultimate for bringing all types of HetNet access nodes together, linking a variety of wireless coverage zones and a broad base of service providers. Our solution is agnostic and can work on all platforms including DOCSIS 3.0, DOCSIS 3.1 and is LTE compliant. The service can deploy across all platforms at an extremely low cost," said Mr. Waite.
5by5 Wireless uses the UHF 300-1000 MHz frequency spectrum. For example, using 48 MHz of downstream bandwidth will provide data operating speed of 216 Mbps for downloading, and 24 MHz of upstream bandwidth will provide 32 Mbps - providing the opportunity for thousands of internet users, linking the thousands of wireless cells, nodes and devices. The 5by5 Wireless circuit can provide full duplex over all spectrum to all wireless communications devices.
"When you think about connecting the 50 million devices projected by the Internet of Things by 2020, there is going to be a demand for broader based solutions that can help make better use of the existing spectrum. We see 5by5 Wireless and 5Bars Wireless as an economical solution for the wireless trade to consider in regards to building HetNet convergence solutions," said Mr. Waite.
Mr. Waite stated that InventionShare is open for licensing and distribution discussions with regional and national telephone companies, ISPs, cable and tower companies who now can get into the wireless business with a very low cost, elegant wireless internet solution that would support HetNet capabilities in rural, remote and urban settings.
About InventionShare™
InventionShare provides inventors with funding, talent, expert processes to accelerate innovation, patent creation and monetization. Respecting that each of our inventors is the architect and the mastermind behind the invention, we work with our inventors in a professional manner as partners helping them take their inventions to market.
About 5by5 Wireless™
5by5 Wireless is a patent pending family of inventions that provides a unique solution in delivering internet services to the entire world. Technically it provides full duplex over wireless and high signal strength with very low noise. It is a low cost hardware solution that delivers on the promise of extended range wireless on UHF and on all spectrums and it delivers full duplex to rural, remote, metro, office, smart city, industrial and home applications.
For more information, contact Kensel Tracy:
Ktracy(at)inventionshare(dot)com 613-225-7236 ext. 116