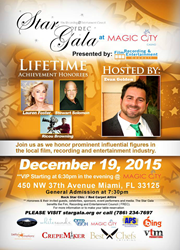 Miami, FL (PRWEB) December 02, 2015
The Film, Recording and Entertainment Council's "Star Gala" honors dynamic industry leaders and talent who share a commitment to professional excellence and making a difference in the South Florida community.
The honorees are people shaping the future of the industry in South Florida and in the global market. The winners are recognized as a select group of people who have achieved notable success and demonstrated strong leadership and success in the industry. The honorees are selected by an independent panel of judges.
The honorees will be honored with an awards presentation at "Star Gala". The gala event will take place on the Saturday, December 19, 2015 at Magic City Casino: 460 NW 37th Ave, Miami
"Being born and raised in South Florida and working in the entertainment industry practically my entire life, Supporting local professionals, film makers, and entertainment productions has always been a mission and passion of mine and to have the opportunity to highlight and recognize some of the leaders in the industry is quite an honor," said Evan Golden.
This year's sponsors are Magic City Casino, VTM Productions, Otter Vision, Orange bing, Advance Prompting Systems, The Oceanaire Seafood Room and Bellymotions.
This year's lifetime achievement honorees are Lauren Foster, Stewart Solomon and Ricou Browning
Some of the key goals for the 2015 Star Gala Awards include:
Soliciting high profile entries from key South Florida artist, entertainers, talent, industry executives, agencies and corporations.
Securing 100+ entries.
Registering 350 or more attendees for the gala event.
Increasing awareness of industry in South Florida and increasing membership by positioning the Film, Recording and Entertainment Council as the most prestigious industry business organization in South Florida.
Creating a forum for the South Florida industry to be judged by peers who understand this unique market.
Providing a local and objective forum for South Florida industry members to present their work and be recognized for excellence.
Providing an opportunity for international and national media outlets and communications professionals to become familiar with our local honorees and their creative capabilities.
Creating an enjoyable networking opportunity for our industry members and the marketing community.
Providing exposure and recognition for sponsors and honorees.
Film, Recording and Entertainment Council, INC.
We've working to make South Florida a better place for our industry to do business by creating networking venues and giving our industry a voice in local and state politics and providing a full range of industry specific products and services. Experience has taught us that our industry's business leaders need comprehensive support that follows key issues. Not only do we give you the tools to make your business more successful but we construct a sense of industry community.
Film, Recording and Entertainment Council, INC.
http://www.frecouncil.org/
786-234-7697
305-940-7847 Fax
For more information or direction please contact
Miguel D. Bravo
info(at)frecouncil.org mbravo(at)FRECouncil.org
Phone: (786) 234-7697
Fax: (305) 940-7847
http://stargala.org/