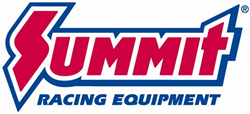 Tallmadge, OH (PRWEB) November 13, 2015
Rugged Ridge has been cranking out parts and accessories for Jeep CJs, Wranglers, and other Jeep vehicles like there's no tomorrow. Here are some of the latest Rugged Ridge Jeep parts, now available at Summit Racing.
Fender Flares
Summit Racing offers four styles of Rugged Ridge Fender Flares. They are designed to fit the factory fender mounting points and are backed by a five year warranty.
Hurricane Flat Fender Flares for JK Wranglers are one inch wider than stock and provide an additional two inches of clearance. That's enough room to run 35 inch tires on a factory JK with no other changes.
Replacement Fender Flares are available for 1955-85 CJ, 1987-2015 Wrangler, and 1984-96 Cherokee. They go the OEM flares one better because Rugged Ridge makes them from UV-protected thermoplastic that is darn near indestructible and won't turn gray on you.
Oversize Fender Flares are seven inches wide to cover most oversized tires. They're made from the same UV-protected thermoplastic as the Replacement Flares and are available for 1976-2006 CJ and Wrangler.
All-Terrain Fender Flares are available in 4.75 and 5 inch widths to cover larger-than-stock tires. They're available for 1976-2006 CJ and Wrangler and 1984-2001 Cherokee.
LED Light and X-Clamp Kits
Rugged Ridge LED lights put out 16 watts of light—about 840 lumens—so you can see where you're going on the trail. The LED elements have a 30,000 hour life expectancy and don't have a filament like a traditional bulb, which makes them more resistant to shock and vibration. The lights are wrapped by a waterproof aluminum housing with a polycarbonate lens that is highly shatter-resistant.
Rugged Ridge includes a set of X-Clamps with each kit. Their Pivotal Fit Technology makes mounting lights on any 2.25 to 3 inch diameter tubing simple—just rotate the clamp to adjust it to the tube diameter, pivot the mounting bracket to the desired position, and mount the light.
Rugged Ridge LED Light and X-Clamp Kits are available with square or round lights in single, dual, and triple-light configurations.
All-Terrain Floor and Cargo Liners
These precision-engineered mats fit the exact shape and contour of the vehicle's floor. The deeply molded chevron-shaped tread and high sides help contain water, dirt, mud, and snow from sloshing for maximum interior protection. Raised ribs on the bottom keep the liners in place, and a self-sealing floor hook attachment keeps dirt and moisture from getting through. They're easy to clean—simply hose them off and put them back to work.
Floor Liner Applications

1976-85 CJ
1987-2015 Wrangler
1984-2015 Cherokee
1993-2015 Grand Cherokee
2008-12 Liberty
2007-14 Compass and Patriot
Cargo Liner Applications

Summit Racing Equipment
http://www.SummitRacing.com
1-800-230-3030