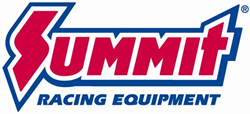 Tallmadge, OH (PRWEB) November 16, 2015
Stainless Steel Brakes Disc Brake Conversion Kits are ideal for everything from a street machine to a Pro Touring-style build. Summit Racing carries two types for GM A-Body, Chevy II/Nova, and Camaro/Firebird.
Drum to Disc Conversion Kits
It isn't 1965 anymore. Drum brakes won't provide the stopping power needed in today's nutso SUV-filled traffic. Ditch those front drums and bolt on an SSBC Drum to Disc Conversion Kit. The kits feature GM-style single piston iron calipers, 11 inch rotors, conversion spindles, master cylinder, pads, flex hose, and all necessary brackets and hardware. The power brake kits also include the appropriate brake booster. What's more, the SSBC conversions will fit inside 14 inch wheels—ideal for guys that want to keep their musclecar looking stock.
Applications

1962-74 Chevy II/Nova
1964-72 GM A-body
1967-69 Camaro/Firebird
SuperTwin Disc Brake Kits for 1964-72 GM A-Body
The next step up in stopping power, the SuperTwin Disc Brake Kits feature SSBC's aluminum SuperTwin two-piston calipers that provide better braking performance with less pad deflection. The kit also includes large 13 inch slotted rotors that feature SSBC's Xtra Life plating, a protective finish that prevents rust and corrosion.
Summit Racing offers a SuperTwin kit with stock height spindles that converts the car to power brakes, plus a SuperTwin HD brake kit that converts the car to manual disc brakes and comes with two inch drop spindles. All kits include a master cylinder, spindles, pads, flex hose, and all necessary brackets and hardware. Recommended for 15 inch and larger wheels.
Summit Racing Equipment
http://www.SummitRacing.com
1-800-230-3030