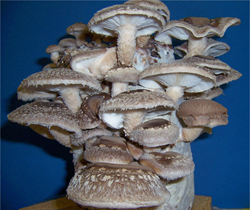 My grandkids love watching the mushrooms grow! The instructions are clear and easy to follow.
Sebastopol, CA (PRWEB) November 09, 2015
Gourmet Mushroom Products (GMHP) announces that over 3 million unique visitors have viewed their mushroom kits web site: http://www.gmushrooms.com.
GMHP has produced Mushroom Kits since 1989 and offers indoor Shiitake, Trumpet Royale ™, Lion's Mane, Sonoma Brown ™, and Blue Oyster Mushroom Kits for the Holidays as well as outdoor Morel Habitat Kit. A perfect gift, GMHP's indoor mushroom kits allow you to grow fresh mushrooms almost anywhere in your home. Just open an all-inclusive kit, add water and watch the mushrooms grow over a period of 7-21 days.
GMHP's mushroom logs start with Certified Organic seed, are easy to use and guaranteed able to produce. A National Home Gardening Club's Member review: "I recommend this product because it was fun and easy to use. The mushrooms sprouted very quickly and my whole family enjoyed watching them grow. They grew very quickly and only required watering twice a day. I am someone who kills most plants and I had no trouble at all growing these. It is a foolproof process and the finished product was delicious."
GMHP's mushroom logs are specifically designed for in-home use, but produce the same top-quality fresh gourmet mushrooms used at many of the country's finest restaurants. Patricia Lehnhardt enthuses in Urban Farm magazine that "Mushroom kits are easy to use and low maintenance..."
GMHP's Mushroom logs are produced through methods that integrate cultural, biological, and mechanical practices that foster cycling of resources, promote ecological balance, and conserve biodiversity.
Shiitake is a star when it comes to versatility. This dark brown mushroom, with caps ranging in size from 2 to 4 inches, is the most widely consumed mushroom in Asia. It has been cultivated there for centuries. Its earthy fragrance and meaty texture enhances a wide variety of dishes since the results are beautiful whether they are sautéed, broiled, baked, grilled, stir fried, or stuffed and broiled.
Trumpet Royale ™ has a wonderful nutty flavor, a resilient firm texture and eats like a steak. Unlike many mushrooms, the stem has the same superb flavor and porcini-like texture as the cap - nothing is wasted. Trumpet Royale ™ can be sautéed, grilled, braised, stewed or broiled, and its savory richness is emphasized by high-heat cooking.
Pom Pom Blanc, also called Hericium, Lion's Mane or Beard mushroom, forms pure white, finely toothed round mushrooms which have always been a rare, prized find in the woods. This mushroom has a very firm texture and a flavor reminiscent of fresh crab meat. This mushroom is fantastic with fresh vegetables, as tempura or can complement anything from a white sauce to a marinade.
Sonoma Brown ™ is an extremely vigorous mushroom discovered in Sonoma County, California; Sonoma Brown ™ Mushroom Kits often start to produce mushrooms within a week of being set up. This dark brown mushroom has a firm texture when cooked and a "meaty" or oyster-like flavor which will add both texture and zest to most sauces or dishes.
Blue Oyster mushroom has a strong visual appeal. Clusters of the blue-gray caps are contrasted against creamy white stems. The texture follows with a silky feel to the palate. They are an excellent accompaniment to fish or poultry dishes.
Morel Habitat morels have the same flavor and quality as morels found in the wild. The Morel Habitat can supply an individual with pounds of morel mushrooms in a garden area as small as 4 - 5 square feet.
Web Specials: Gourmet's Delights includes four Mushroom Kits: Morel Mushrooms, Shiitake Mushrooms, Oyster Mushrooms, and Pom Pom Blanc Mushrooms at a savings of $16.00 over single items purchase price.