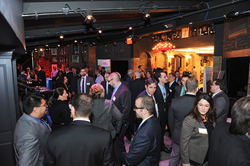 Jericho, NY (PRWEB) November 06, 2015
On November 4th, Grassi & Co. hosted its 3rd Annual Manufacturing and Distribution (M&D) Industry Executive Forum at The Space at Westbury. The event was sponsored by Altium Wealth Management, The Cypress Group at Morgan Stanley, and Signature Bank, just to name a few, and was attended by over 100 top-level executives. The industry panelists included John King, CEO and COO of J. Kings Food Services; Brian Li, President and CEO of Allegiant Health, Inc.; and Chris Hickey, President of Teq.
Panelists discussed the issues surrounding the M&D Industry, including factors driving growth, product diversification in order to maintain and enhance profitability, and retaining and hiring employees on Long Island.
When asked by Moderator Steve SantaBarbara, SVP of Global Supply Chain, Estee Lauder/MAC Cosmetics; about recruiting on Long Island, Chris Hickey said, "It is always a challenge to recruit employees on Long Island. You have to make sure you are recruiting from colleges and universities, and use LinkedIn." Hickey also added, "The people, the schools and the quality of life on Long Island are all great, but housing is still an issue. The younger generation don't want to live in mom's basement." In order to combat the challenges of housing costs for younger hires, Teq offers housing stipends, which Hickey states is working.
The keynote speaker, Mike Weinstein, former CEO of Snapple, began the recounting of his experience re-building the Snapple brand with a big piece of advice to executives looking to brand their companies: "If you want to be an innovator, you're going to have to break some rules." It was that tenacity that led Weinstein and his colleagues at Triarc to purchase Snapple from Quaker Oats for $300 million and resell the brand three years later for $1.45 billion.
The results of the Grassi & Co.'s 2015 M&D Market Outlook Survey were also revealed. Grassi & Co. produces the survey annually in an effort to provide M&D executives with a market intelligence tool to assist in guiding their business objectives and strategies. The survey is a valuable resource that helps identify best practices, emerging trends, and industry benchmarks to assist in planning for the year ahead. For a copy of the M&D Market Outlook Survey, please contact the Marketing Department at marketing(at)grassicpas(dot)com.
###
About Grassi & Co.: Grassi & Co., the 73rd largest firms in the U.S., is a premier professional service organization specializing in accounting, auditing, tax, technology, and business consulting services. Grassi & Co. has offices in Manhattan, Long Island and Rockland County, NY as well as internationally through its association with Moore Stephens International. Grassi & Co. specializes in professional services for the Not-for-Profit, Construction, Architecture & Engineering, Financial Services, Life Sciences, Manufacturing & Distribution, Retail, Technology, Media & Telecommunication, Transportation and Healthcare industries, among others.