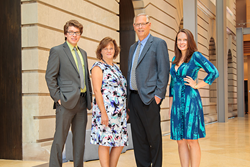 The level of creativity exhibited in the report is outstanding, which is supported by excellent clarity in communicating this year's key messages. It should be noted that accessibility to key information sought by readers is outstanding
Norfolk, VA (PRWEB) November 06, 2015
The Norfolk Redevelopment and Housing Authority (NRHA) 2014 Annual Report recently received top honors in the world's largest annual report competition sponsored by the League of American Communications Professionals (LACP) in the following categories:

Gold Award Government Sector
Top 40 Annual American Report
Overall Top 50 in the Americas Region
"The level of creativity exhibited in the report is outstanding, which is supported by excellent clarity in communicating this year's key messages. It should be noted that accessibility to key information sought by readers is outstanding" says Christine Kennedy, LACP Managing Director.
NRHA ranked 40th in the Top 50 in the Americas Region (encompasses North, South and Central America), beating out organizations such as Pfizer Inc., Boeing Company, Department of Army and Wal-Mart. In the Gold Award category, NRHA ranked highest among local, state or federal entities, followed by the US Department of State which received Silver. NRHA also ranked 23rd in the Top 40 American Annual Report category.
The 2014 Vision Awards Annual Report Competition drew one of the largest numbers of submissions ever, representing a broad range of industries and organizational sizes. This year's event was comprised of nearly 1,000 organizations representing upwards of two-dozen countries, so competition was exceptionally tough.
NRHA's annual report is produced in-house by the Communications and Government Relations department. "Planning and executing an annual report of this caliber is an enormous staff undertaking" says Ed Ware, Director of the Communications and Government Relations department, "We are pleased to have an opportunity to highlight the important work of our organization and to be recognized by this prestigious competition."
About LACP
http://www.lacp.com/
About NRHA
Founded in 1940, NRHA is a national leader in community revitalization and fostering sustainable mixed-income communities. As the largest redevelopment and housing authority in Virginia, NRHA is an important driver of the local economy. http://www.nrha.us
The electronic version of the report can be found here: http://www.nrha.us/content/annual-report
###