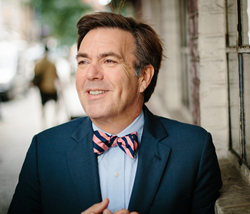 "An evening with Kevin is a trip to the funhouse with good-hearted humor and escalated laughter"
San Rafael, CA (PRWEB) November 09, 2015
A New Year's Eve celebration made EASY & FUNNY. The 6th Annual Stand-Up Comedy Celebration is the perfect experience for New Year's Eve in Marin. Group tables allow folks to bring their Party to a great comedy show with nothing to clean up. The evening is timed with maximum flexibility so attendees can enjoy an early dinner at a favorite restaurant, go elsewhere for the stroke of midnight, or stay for the festive After Party with the Comics, featuring complimentary bubbly and a big-screen countdown!
Smart, funny and clean stand-up comedy from 5 comedians in ONE hilarious show.
WHEN:
Thursday, Dec. 31: 2015 @ 9pm |
7:30 pm: Pre-event No-Host Full Bar | Theater Doors Open
9pm: Comedy Showcase
11:15 -12:45 After Party & Countdown with the Comics
WHERE:
The Osher Marin JCC | 200 North San Pedro Road, San Rafael | 444.8000
TICKETS:
Start as low as $34.50 http://www.theothercafe.com
Group Tables of 4 or 8 available at discount. More Info: 415.785.8873
MORE:
Full, no-host bar.
Plenty of free PARKING,
Midnight toast & after party with the comedians included.
The 6th Annual Marin New Year's Eve Stand-Up Comedy Celebration presents FIVE A-List comedians with 2 headliners:
KEVIN MEANEY is best known for drawing from his family relationships with catch phrases for hilarity. Kevin headlines clubs throughout the nation.
An evening with Kevin is a trip to the funhouse with good-hearted humor and escalated laughter.
JOE DEVITO uses his Italian-American family, current events, dead-on timing & unexpected twists to create sheer flights of lunacy that have made him a favorite at top clubs across the USA.
Special guest for the evening is San Francisco original and Marinite; GEOFF BOLT, described by the press as "quietly hysterical", "a comic genius" and "an inspiration".
Actor, writer and comic MICHAEL MEEHAN brings his wildly, unique, outside-of-the-box comedy, as your host for the evening.
Accessible and fresh - "the best-kept comedy secret weapon", JOHN HOOGASIAN's pioneering yet classic humor rounds out this fun and funny start to 2016.
One hilarious Night of Comedy in support of the SF-Marin Food Bank and One Warm Coat.
The evening will serve as a collection site for lightly used or new coat & non-perishable, healthy foods to support those in need!
The Kanbar Center for the Performing Arts is the Performing Arts Department within the Osher Marin Jewish Community Center in San Rafael, California. For over 22 years we have spread the power of music, voice, humor, taste, culture, movement and words throughout the community by presenting a wide range of musical events including classical, contemporary, and jazz concerts, club style dancing events, comedy, theater and arts performances, all in the grand Hoytt Theater. Lectures, chats and demonstrations are presented in the Kurland Lounge, and each summer inspiring world music & dancing for all ages takes place outdoors under the stars, on Swig Field. All are welcome; no membership is required to attend any of the Kanbar events. The Center is a long-standing Marin non-profit, centrally located in Marin County and just 1/4 mile east off Hwy 101.