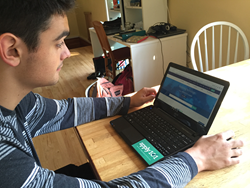 "apply101 really streamlines the process and saves me a ton of time," said Ian Sloan, high school senior.
PORTLAND, Ore. (PRWEB) November 09, 2015
Traditionally, the college application process has been a necessary evil for students — and by default, parents and counselors. High school juniors and seniors whose schedules are packed with homework, sports and other activities can easily become overwhelmed with the deadlines for applications — especially financial aid. In addition, many do not have the time, resources or know-how to get students started and through the college application process.
Enter apply101.com, a free college application management tool that organizes everything students need to apply – and pay for, college applications in one place. And like a good friend, apply101 sends texts or email reminders to the students when important deadlines are coming up.
"apply101 was born out of the idea that there needed to be a better way," said Natalie Miller, co-founder & CEO, apply101.com. "Students, parents and school counselors can track the application process, and submission deadlines all in one location. Future enhancements include providing a tool for colleges and universities to find prospective students and invite them to apply."
How it works
The features available in apply101 allow everyone involved in the process to keep track of and manage everything that needs to be done to apply to – and pay for college. In addition to transcripts and essays, the tasks that can be tracked can include financial aid and scholarship information, tasks assigned to a student by a counselor, or tasks a student creates for themselves.

The first step for the student is to create a free apply101 account, and add the colleges and universities where they want to apply using the "college wizard" feature. The student then clicks on the task button, where application requirements are listed and can be sorted by the due date, college or task type. Information and due dates for each college is pre-populated. To help keep students on track, custom SMS reminders can be set up, which can be shared with parents, friends or counselors who are invited by the account manager.
"I really like it. All seniors have things they would probably rather be doing than filling out college applications," said Ian Sloan, high school senior. "But apply101 really streamlines the process and saves me a ton of time. Plus it's so easy to use, and fun, so you can jump in and start using it right away."
For School Counselors & Parents:
Counselors, and many parents, typically have several students' applications of which to track. With apply101, they can, not only track multiple students' application progress, but also assign tasks to one or more student.
"apply 101 is really well designed, user friendly, and it captures what other apps don't do," said Lisa Sloan, Ian Sloan's mother. "It's going to make the process easier — and I think it will make our conflict over it less. So, apply101 can nag him to get his materials in on time instead of me."
For Community Organizations
Because apply101 is a free tool, community organizations that provide free college mentoring to high school students are a natural fit. One example is the Black United Fund of Oregon in Portland.
"The students we work with have really embraced this tool, said Marshawna Williams, education programs specialist of Black United Fund of Oregon. "It is especially helpful to have all of the college information and deadlines already populated so students can quickly see where they need to be in the preparation stages."
Leveling the Playing Field
Another important aspect of apply101 is its ability to make the application process more equitable for applicants despite his or her economic background.
"Many times students from affluent families have more of an 'edge' in the application process because they work with tutors who advise them on the process, and help them with the paperwork and timelines. apply101 can help level the playing field for those students who have the motivation — but perhaps not the resources," said Miller.
apply101 fully launched in 2015, after being in beta the year prior. The software is designed to complement The Common Application, an existing platform, which supports 600 institutions. apply101 offers application and financial information for approximately 3,000 accredited colleges and universities in the United States.
The apply101 Story
After graduating from Scripps College in Claremont, California, Co-founder and CEO, Natalie Miller worked in the school's admissions office. During her time there, she identified a gap in the admissions marketplace, which later became the basis of her capstone project during her MBA program at the University of Oregon. Miller's business partner, Steve Baer, also came from the executive MBA program and was a member of Miller's study team. Baer eventually joined as CFO as Baer's financial know-how was the ideal complement to Miller's visionary energy. More information can be found on apply101.com.