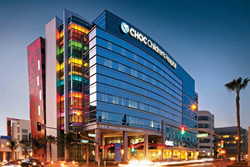 What this does is provide a central location for the pediatric population to come and have their neurological anomalies treated in a timely manner
Orange, Calif. (PRWEB) November 06, 2015
With the help of an Allied Anesthesia physician, the new neurointervention suite at Children's Hospital of Orange County is ready to help increase survival and reduce disability among pediatric patients with neurological anomalies.
Allied Anesthesia physician Joseph Kim, who is the medical director of anesthesia at CHOC, was directly involved in creating the service that recently opened. Kim worked closely with Dr. Shuichi Suzuki, neurointervention specialist at the UC Irvine Medical Center, to ensure the opening went smoothly.
Previously, when children needed this procedure, they would have to be transferred to UC Irvine Medical Center or other outside hospitals, which caused logistical problems and potentially life-threatening delays in treatment.
"What this does is provide a central location for the pediatric population to come and have their neurological anomalies treated in a timely manner by eliminating the need to transfer back and forth between CHOC and other hospitals," Kim said.
Two of the most common conditions that require neurointervention techniques are arteriovenous malformations and cerebral aneurisms, according to Kim. Some conditions are congenital and some are the result of trauma.
Kim recalls one patient, a young girl whose head was run over by a car resulting in multiple arteriovenous malformations. CHOC's neurointervention team has treated her twice already to try to eliminate the malformations.
"We're excited to have started this service at CHOC," Kim said.
---
About Allied Anesthesia: With over 100 highly qualified physician anesthesiologists on staff, Allied Anesthesia provides adult and pediatric anesthesia services to St. Joseph Hospital of Orange, CHOC Children's Hospital, St. Jude Medical Center in Fullerton, San Antonio Community Hospital in Upland, St. Mary's Hospital in Apple Valley and many other Southern California health care facilities. In 2014, Allied Anesthesia joined with Fullerton Anesthesia Associates and Upland Anesthesia Medical Group to consolidate best practices in more than six hospitals and more than a dozen ambulatory surgery centers. The expanded medical practice is dedicated to offering the highest comprehensive quality of care and the most cost-effective procedures in all facilities they serve. All Allied physician anesthesiologists are board certified in Anesthesiology and they staff and manage the most efficient operating rooms in Southern California. Allied is a member of the California Society of Anesthesiologists, the American Society of Anesthesiologists, and the Anesthesia Quality Institute.
For more information, visit: http://www.alliedanesthesia.com