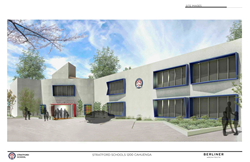 "Preschool is a precious time when a child's curiosity can be channeled and their hunger for learning nurtured," says Stratford founder, Sherry Adams
Los Angeles, CA (PRWEB) November 05, 2015
With the opening of new campuses in the Southern California area, Stratford School, a Silicon Valley based, award-winning, educational leader, is hosting a Preschool Director's Reception on Tuesday, November 10th.
Recognized as a top-tier independent private school, which provides a preschool through 8th grade curriculum, Stratford School knows first hand the value of a rich preschool experience in shaping a child's educational success. "Preschool is a precious time when a child's curiosity can be channeled and their hunger for learning nurtured," says Stratford founder, Sherry Adams, who established the school in 1999. Stratford School understands the value of preschool directors and the crucial role they play in building the educational foundation for lifelong learners.
Hosting this reception is an opportunity for Stratford School to introduce their staff and curriculum to the preschool directors in the Los Angeles area. Transitioning from preschool to kindergarten is an important educational milestone and parents often look to preschool directors for guidance to make informed decisions about choosing the next school in their child's advancement. With two new campuses opening in Los Angeles and Pasadena in Fall 2016, Stratford School is eager to meet likeminded educators and professionals.
Stratford School, the first school in California to receive the prestigious Carnegie STEM Excellence Pathway Digital Seal, has also been awarded the 2015 School of the Year at the Synopsys Science and Technology Championship and voted Best of the Bay 2015, by readers of Bay Area Parent. The Western Association of Schools and Colleges (WASC) commended Stratford for providing "…a rich, well-rounded, challenging, and sequential curriculum that is constantly enhanced" and their students historically matriculate to highly-ranked, first choice high schools.
Stratford has an outstanding reputation with Bay Area parents and national academic associations across its 18 campuses for providing an exceptional STEAM education, where children are inspired to be creative problem-solvers, innovators, and leaders. Guests at Tuesday's reception are sure to leave with a memorable impression of Stratford School.
For more information about the Preschool Directors Reception or to attend call (323) 988-9505.
For more information about Stratford School's Los Angeles and Pasadena campus go to http://www.stratfordschools.com/socal
 
About Stratford School
Established in 1999, Stratford School is a leading independent private school founded on the belief that education is a significant influence in the life of a child. Stratford offers an accelerated curriculum from preschool through eighth grade with an emphasis in the areas of STEAM (Science, Technology, Engineering, Arts, and Mathematics) that incorporates music, physical education, foreign language, and social skills development. Stratford's goal is to prepare and mentor students for admission to competitive high schools and colleges. All students are provided the necessary tools to excel, and are encouraged to participate actively in leadership, community service, and extracurricular activities. Visit http://www.stratfordschools.com for more information.