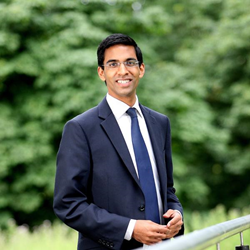 This exciting acquisition adds scale and greater capability to help universities launch and grow new health-related degrees. - Rajay Naik, Keypath Education's CEO (Europe)
London, UK (PRWEB) November 09, 2015
Keypath Education is pleased to announce the acquisition of GlobalHealth Education, bringing together two leading higher education businesses to better address the demand for health care education. Keypath Education has partnered with higher education institutions for more than 26 years to create the world's most prepared students. GlobalHealth Education provides access to online health care degree programmes for employees and employees of health organisations to advance their careers through a proprietary college and university network.
Under the new company structure, GlobalHealth will be rebranded and enhance Keypath's leadership in delivering online degrees in the fast-growing global healthcare vertical. The global healthcare market presents a significant platform for the combined company's continued growth and increased penetration. The well documented shortage of nurses and doctors in the UK, as well as the overreliance on foreign workers, are a small example of the increasing demand for healthcare degrees from British universities. Together, Keypath Education and GlobalHealth will leverage deep health system relationships and B2B ties to deliver world-leading online offerings. The partnership immediately increases the degree options available to health care workers and professionals.
Keypath Education, a global leader in marketing services and online enablement, works with its partners to launch programmes, grow student enrolment, improve learning and connect education to careers. By joining Keypath Education, GlobalHealth will expand its portfolio of degree programmes and provide more diverse and extensive support services to colleges and universities.
"Combining Keypath Education's global online enablement expertise with GlobalHealth's industry-leading health care expertise will enable us to maximise student outcomes and deliver superior results for our partners," said Keypath's CEO (Europe) Rajay Naik. "This exciting acquisition adds scale and greater capability to help universities launch and grow new health-related degrees. Global demand for healthcare degrees continues to grow at an astonishing pace. Our partnership will enhance the ability of leading universities to deliver world-class degrees to students around the world."
Debbie Schwarzberg, founder and CEO of GlobalHealth, will join Keypath Education as president of its OPM Healthcare Division. Rajay Naik will remain CEO (Europe) of Keypath Education. Additionally, Keypath Education and dialogEDU, an intuitive global online learning platform owned by GlobalHealth's former parent company, will enter into a strategic partnership to provide technology solutions to the higher education and healthcare sectors in the form of a next-generation learning management system utilised by institutions focusing on high-quality, personalised learning.
"I am excited that GlobalHealth and I are joining the Keypath Education family," said Schwarzberg. "With our shared vision for online education and focused approach to the huge growth in the healthcare training and education market, GlobalHealth will now reach more students and healthcare organisations with a broader and deeper set of education offerings."
For more information or to arrange an interview, please contact Chris Williams at chris.williams(at)keypathedu(dot)com.
About GlobalHealth Education
GlobalHealth Education provides support and turnkey systems for colleges and universities, including student recruitment and retention, programme development, instructional design, and technology services for online programmes in the health care education industry. Partner institutions, colleges and universities consider GlobalHealth and its learning management system, dialogEDU (which is owned by GlobalHealth's former parent company and will provide its learning management system), strategic allies in training and educating health care workers and professionals and supporting their career advancement by introducing them to online degree programmes. Since its inception in 2009, GlobalHealth and its affiliates have trained over 75,000 adults and enrolled over 2,000 students for their partners. GlobalHealth is a former subsidiary of MedVue Holdings LLC. Visit globalhealtheducation.com and dialogedu.com to learn more.
About Keypath Education
Keypath Education partners with higher education institutions worldwide to launch programmes, grow enrolment, improve learning and connect education to careers, using a proprietary technology suite. The company has helped more than 4,000 higher education institutions better serve students and graduates, resulting in a strong reputation for its education mission and quality in the United Kingdom, United States, Australia and Canada. Since its founding more than 26 years ago, Keypath Education has been dedicated to changing lives through education. Visit keypathedu.com to learn more.