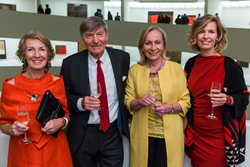 NEW YORK, New York. (PRWEB) November 06, 2015
Marilisa Allegrini, 5th-generation purveyor of iconic wines in Valpolicella, brings her acclaimed wines and celebration of the arts to the Solomon R. Guggenheim Museum (Guggenheim) as Allegrini supports the most comprehensive retrospective of works by Italian artist Alberto Burri in nearly 40 years. The collaboration between the benchmark Amarone producer and the landmark Guggenheim in New York symbolizes the deep commitment to the arts demonstrated by Marilisa Allegini—President of Amarone Families Association and a supporting member of the Intrapresae Collezione Guggenheim in Venice, Italy—brought to life through her promotion of arts programming in her native Italy, the US and throughout the world.
Allegrini's activities at the Guggenheim encompass a series of celebratory events that began with the exhibition's inaugural celebration, which took place on October 8. Marilisa Allegrini will host a private event, Allegrini and the Art of Wine, in New York on December 3, 2015.
Marilisa Allegrini joined the Intrapresae Collezione Guggenheim project in Italy with the aim of continuing to strengthen the links between art, culture and the world of wine. "Through our products we bring to the world an entire territory, its history and its cultural assets," she said. "This is what makes us feel an affinity with institutions such as the Guggenheim Foundation that are so well suited to internationalism, and it makes us aware of the great importance of our role as ambassadors of Italian excellence in the global marketplace."
Alberto Burri: The Trauma of Painting runs from October 9, 2015 through January 6, 2016, and is the most comprehensive retrospective ever mounted in the US of the pioneering work of Burri (1915-1995), who blurred the lines between painting and sculptural relief with his post-World War II art. Burri notably broke with the gestural, painted surfaces of American Abstract Expressionism and European Art Informel, and is recognized as a key figure in the development of modernist collage. One hundred examples of Burri's work will occupy the entire rotunda of the Frank Lloyd Wright-designed museum.
The December 3rd private Allegrini event, Allegrini and the Art of Wine, allows arts patron Marilisa Allegrini to bring the winery's story to New York. Hers is a story of love for wine and commitment to the land, to ancient traditions and to values that are passed down from generation to generation in the Allegrini family. This private Allegrini event will bring together personalities from the world of art, wine connoisseurs and enthusiasts, journalists and critics.
For more information about the exhibition and to learn about related activities, visit guggenheim.org. To engage with Burri exhibition-related programming on social media, visit guggenheim.org/social and use the hashtag #Burri. Allegrini can be found online at Allegrini.it, on Facebook and Twitter, and engaging with a global audience with the hashtag #allegrini, which celebrates Allegrini's worldwide initiatives including the Guggenheim collaboration.
About Allegrini
With over six generations of winegrowing tradition, Allegrini is the most-awarded winery in the Veneto and the benchmark for Amarone. The Allegrini family's innovations in appassimento winemaking have made the estate's classic Amarone and Valpolicella wines exemplars of excellence, while their emphasis on single vineyard expressions of local grape varieties has drawn renewed interest in the Veneto. Led by CEO Marilisa Allegrini, president of Amarone Families (Famiglie dell'Amarone d'Arte), and winemaker Franco Allegrini, the estate continues to marry tradition with innovation, selling wine in over 60 countries worldwide. Allegrini.it
Italian Table Wine © 2015 Allegrini Wines USA, Hayward, CA. All Rights Reserved.
About LUX Wines
Founded in 2014, LUX Wines is an importer of fine wine purveyors founded by E. & J. Gallo Winery. LUX Wines hand-selects truly distinct, terroir-driven wines from highly acclaimed wineries around the world that transcend time and are deeply rooted in tradition. LUX Wines is led by Managing Director Giovanni Nencini, a wine industry veteran with more than 20 years of experience in sales, marketing and exporting. Nencini oversees an elite team of wine professionals who have lived, worked and traveled in the world's most renowned winegrowing regions. For discerning American wine enthusiasts, LUX offers a growing, international portfolio of iconic wines. luxwines.com
©2015, Ernest & Julio Gallo Winery, Modesto, CA. All rights reserved.
Contact:
Alessandro Boga
Colangelo & Partners Public Relations
1010 Avenue of the Americas, Suite 300
New York, NY 10018
O: 646-624-2885 ext.256 C: 917-586-9307
aboga(at)colangelopr(dot)com