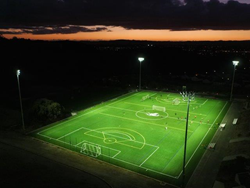 "We are very happy with the Qualite Q-LED™ installation at our soccer & lacrosse field at Sonoma Academy. The quality of the lighting is phenomenal and the software features have also been easy to use and manage. ~Chris Ziemer – Director of Athletics
Hillsdale, MI (PRWEB) November 06, 2015
With 52 Q-LED, 1000w fixtures, Qualite was able to provide an average 69 foot candles for excellent achievement of national industry lighting standards. In addition, with Qualite's ReQuest System for ease of scheduling and monitoring, the Academy enhances the overall efficiency, both time and budgetary, of facility management.
Mike Tonis, Qualite Sales Manager, Western Region, comments "We're excited to provide our LED lighting solution which expands facility usage for the Sonoma Academy students, while providing necessary cut-off light to keep light away from area neighbors. Sean Cheney of SCL North adds, "Qualite's ReQuest System was the perfect fit for Sonoma Academy, providing state of the art technology for managing the entire lighting system. Sonoma Academy has forged a path for high schools to understand how the Q-LED System is the best sports lighting solution in the industry."
Chris Ziemer – Director of Athletics, Sonoma Academy states, "We are very happy with the Qualite Q-LED installation at our soccer & lacrosse field at Sonoma Academy. The quality of the lighting is phenomenal and the software features have also been easy to use and manage. The energy savings and ability to control light pollution were major factors in our choosing the Q-LED System. With Qualite lighting, we finally have the perfect setup to host night games on our beautiful campus."
About Qualite Sports Lighting
Qualite has been the Sports Lighting Partner for High Schools, Colleges, Parks and Recreational Departments, and Minor and Major League Professional Sports Franchises for 30 years. In addition, Qualite has partnered with an LED Manufacturer to provide the highest quality LED technology systems for sports facilities, including the host stadium to the 2015 Super Bowl, as well as High School, College and Park & Rec Fields across the US. Qualite's Q-LED System is the most Energy-Efficient, Highest Lumen Output LED Lighting Solution in the Sports Lighting Industry.