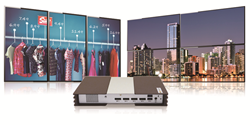 SMP-8000 shows promises to enrich the Ultra HD video wall experience by supporting up to 4K playback resolution.
Taipei, Taiwan (PRWEB) November 07, 2015
CAYIN Technology Co., Ltd. announced the release of SMP-8000, its newest addition to the next-gen SMP-NEO digital signage player series. This versatile digital signage player tailored for 4-display video walls was introduced at InfoComm MEA 2015 showcasing a dynamic information center.
By integrating the user interface, SMP-NEO, the hardware, and the diversified digital signage solutions, SMP-8000 shows promises to enrich the Ultra HD experience. It provides the solutions for users with various needs in different industries, including retail, service industry, education and government institutions, and more. In addition, this compact player also has the ability to simply transform displays into video walls, permitting the possibility to build multi-displays on a budget.
Signal distribution is no longer needed when creating video walls with SMP-8000, as the latest model has 4 built-in display outputs, allowing flexible display modes such as 4x1 or 2x2. Unlike traditional signal distribution box, which significantly decreases signal strength and resolution, each output of the player supports Full HD display resolution, and up to 4K if in Single display mode to present crystal clear images to audiences.
SMP-8000 went under development when CAYIN first noticed the shift in the OOH media market. In the past, video wall was widely utilized in bigger chains with higher investment budgets. However, small businesses were often overlooked when considering multi-display digital signage solutions. With limited space and store front, small businesses couldn't afford putting up a conventional video wall, which costs more money and space. Therefore, CAYIN began developing compact video wall solutions suitable for smaller businesses, and thus, the SMP-8000 was born.
To learn more about the 4-display-video-wall player, SMP-8000, please go to CAYIN's website.
CAYIN Technology in Brief
CAYIN Technology offers a complete portfolio of appliance-based digital signage solutions, including media players, servers, and software, for various commercial applications, such as education, transportation, retail, hospitality, corporate use, and financial and public institutions. CAYIN is dedicated to being a reliable partner to its clients worldwide and has successfully set up various application references globally. In order to best facilitate the deployment of CAYIN products, the company also provides tailored services to satisfy the ever-growing market demand for almost limitless applications.