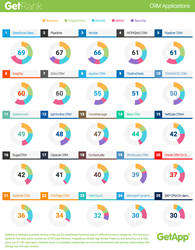 Companies should be looking beyond the traditional functions of CRM in order to leverage new features like mobile accessibility and analytics
(PRWEB) November 07, 2015
GetApp, the largest cloud-based business apps marketplace, has released its Q3 ranking of the top CRM (Customer Relationship Management) solutions. Industry leader Salesforce Sales Cloud took the top spot for the first time since the Q1 ranking launched, while former leader Nimble dropped to third, sandwiching Pipedrive in at number 2.
The ranking, which is based on five unique data points including user reviews, integrations, security, mobile app availability, and social media presence, is updated every quarter to reflect newly available data. The goal is to provide businesses with a first-glance look at some of the top CRM applications in the industry to help find the right fit for their business.
The data used to calculate a vendor's GetRank score is based on information collected from GetApp and other third-party sources. Security, a unique data point for GetApp, is collected from vendors via a security survey based on the Cloud Security Alliance's Self-Assessment Form. User reviews and integrations are based on GetApp data, while social media and mobile app availability are pulled from the App Store, Google Play, Twitter and Facebook.
Part of the ranking is a report on trends in Customer Success software, with contributions from Laurie McCabe, co-founder and partner of SMB Group. As McCabe notes, companies should be looking beyond the traditional functions of CRM in order to leverage new features like mobile accessibility and analytics.
"Right now, CRM is glorified contact management for a lot of companies. Analytics really have the potential to make it into a decision-making, strategic-thinking tool," says McCabe. She adds, "every salesperson wants to be able to access their CRM on a mobile device. Having mobile capabilities and being able to do the things you do every day in the office, but on a mobile device, is a prerequisite." These are just two trends that are ushering in a new league of cloud-based CRM software. on
You can check out the entire Q3 GetRank report, Customer Success in the Cloud: Key Trends for 2015 on GetApp, which includes the Q3 ranking for CRM software.
More about GetApp: GetApp, a Gartner company, is the leading premium business app discovery platform on the web. Headquartered in Barcelona (Spain), GetApp serves as a platform for user-generated and editorial reviews of software and apps for businesses.