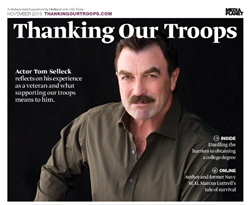 If we want people to keep volunteering, we need to make sure they have a connection back to family, home and country.
(PRWEB) November 06, 2015
Mediaplanet today announces distribution of its third cross-platform edition of "Thanking Our Troops," distributed nationally in print and digital. With Veteran's Day right around the corner, Mediaplanet is collaborating with Tom Selleck, The USO, Drexel University Online and many more to remind readers the importance of marking off more than just one day to say thanks.
The print component of "Thanking Our Troops" is distributed within this weekend's edition of USA Today, with a circulation of approximately 450,000 copies and an estimated readership of 1.3 million. The digital component is distributed nationally, through a vast social media strategy and across a network of top news sites and partner outlets. To export the digital version of the campaign, click here.
Actor and war veteran Tom Selleck is featured on the cover of the print publication. In an exclusive interview, he discusses his experience serving in the California National Guard during the Vietnam era. Says Selleck, "I was proud to serve my country, but there seemed to be a consensus that we needed to blame the soldier or sailor for government policy. That went away over time, and I think that's a great lesson."
This campaign was made possible with support from Drexel University Online, a Yellow Ribbon University and strong supporter of military and veteran students. In an exclusive interview with Dr. Susan C. Aldridge, President, Drexel University Online, Dr. Aldridge discusses her personal experiences working in military education. She says, "The service members and veterans I have taught have always been among the most dedicated and hardworking students. It has been a distinct honor in my career to support these men and women, as well as their family members."
About Drexel University Online
Drexel University began offering online courses in 1996, paving the way for other Universities to follow suit. Drexel University Online has always recognized the achievements and sacrifices of our nation's active and veteran military. They offer eligible veterans the chance to attend tuition free under the Post- 9/11 GI Bill Yellow Ribbon Program. They also offer military service members, veterans and their immediate family an opportunity for immediate use of benefits, and have 24/7 online course delivery allowing flexibility for active duty service members to earn their degree on their own schedule.
About Mediaplanet
Mediaplanet is the leading independent publisher of content-marketing campaigns covering a variety of topics and industries. We turn consumer interest into action by providing readers with motivational editorial, pairing it with relevant advertisers and distributing it within top newspapers and online platforms around the world.
Press Contact:
Rachel Bernstein
rachel.bernstein(at)mediaplanet(dot)com
646-755-7949