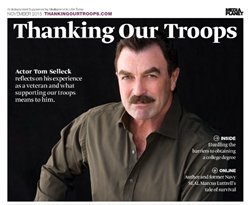 I was proud to serve my country, but there seemed to be a consensus that we needed to blame the soldier or sailor for government policy. That went away over time, and I think that's a great lesson
(PRWEB) November 06, 2015
With Veterans Day fast approaching, Mediaplanet is enlisting Tom Selleck and The USO the Academy of Art University, among others, to foster wider awareness of the importance of marking off more than just one day on the calendar to let our troops know their service and sacrifice do not go unnoticed.
The print component of "Thanking Our Troops" is distributed within this weekend's edition of USA Today, with a circulation of approximately 450,000 copies and an estimated readership of 1.3 million. The digital component is distributed nationally, through a vast social media strategy, and across a network of top news sites and partner outlets. To export the digital version of the campaign, click here
Actor and veteran Tom Selleck is featured on the cover of the print publication. Inside, he discusses his experience serving in the California National Guard during the Vietnam era. Says Selleck, "I was proud to serve my country, but there seemed to be a consensus that we needed to blame the soldier or sailor for government policy. That went away over time, and I think that's a great lesson."
This campaign was made possible with support from Academy of Art University, a Yellow Ribbon participant and strong supporter of military and veteran students.
About Academy of Art University
Founded in San Francisco in 1929, the Academy of Art University has always been a beacon of creativity for aspiring art students. Paving the way for transitioning service members to seek careers in art and design, Academy of Art University offers a new Military Scholarship opportunity for U.S. Servicemembers (Active Duty, Reserve, National Guard, and Coast Guard). They also waive application fees for men and women in the military. Academy of Art University was recognized as a top University for Military Advanced Education in 2015, and a 2015 Military Friendly School.
About Mediaplanet
Mediaplanet is the leading independent publisher of content-marketing campaigns covering a variety of topics and industries. We turn consumer interest into action by providing readers with motivational editorial, pairing it with relevant advertisers and distributing it within top newspapers and online platforms around the world.
Press Contact:
Rachel Bernstein
rachel.bernstein(at)mediaplanet.com
646-755-7949