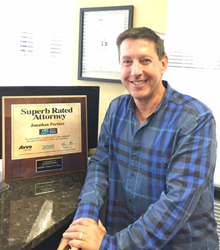 Columbia, Maryland (PRWEB) November 09, 2015
Attorney Jonathan Portner, who manages Portner & Shure, has just been presented with the Superb 9.6 Rating Award by Avvo for his excellence in personal injury cases. This award acknowledges that Mr. Portner has been recognized by the legal community for superb professional conduct and experience. Avvo is an online legal forum used by attorneys to answer various legal questions posted by people on the site in need of legal counseling. In addition, Avvo is known for calculating a rating for every attorney on the site based on several factors, including client reviews. Mr. Portner has an excellent rating and an overall perfect five-star rating for client reviews.
Avvo uses a rating system to distinguish the "best" attorneys from the "worst" attorneys. Numerous factors are used to calculate this rating, including the quantity of reviews and the quality of reviews the attorney receives, as well as his or her level of experience. Mr. Portner's clients laud his dedication and hard work in obtaining settlements or trial outcomes that far exceed the client's expectations. Avvo uses four factors that a client can use to rate an attorney: trustworthy, responsive, knowledgeable, and keep the client informed. Mr. Portner's clients all agree that he is excellent in every category with five stars for all four factors. This award shows attorneys how much their clients appreciate the work they have done, and also lends credibility to the attorneys in order to attract new clients.
Mr. Portner has been practicing law in Maryland and Washington, D.C. since 1988. He first started working as a litigator at one of Baltimore's largest law firms. Then, after winning his first million dollar personal injury case, he left the firm to form Portner & Shure, P.A. Since opening his own law firm, Mr. Portner has won countless awards for his tremendous litigation skills in the courtroom.
Portner & Shure is proud of Mr. Portner being honored with Avvo's Superb Rating Award for 2015 because it is further proof that Portner & Shure works extremely hard to meet all its clients' needs and exceeds their expectations.