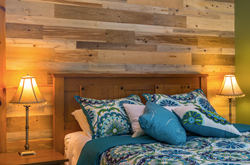 We're very pleased that Timberchic was selected as one of This Old House's Top 100 New Products of 2015.
Millinocket, ME (PRWEB) November 06, 2015
Timberchic is proud to announce Time Inc.'s This Old House magazine has named it's peel-and-stick product to its fifth annual "This Old House Top 100," a list of the 100 best new home products of the year. Timberchic, a thin, peel-and-stick, real wood interior design solution is produced in Millinocket, Maine from river-reclaimed timber. Each year, the editors of This Old House test countless new products for the home to identify the most distinctive, useful, and innovative in seven categories: Kitchen, Bath, Tools, Home Tech, Building Products, Outdoor Living, and Finishing Touches.
"We're very pleased that Timberchic was selected as one of This Old House's Top 100 New Products of 2015," said Tom Shafer, co-owner of Timberchic. "Timberchic is a completely unique product, made of centuries old wood, that features natural hues and textures that make for a spectacular DIY home project. This new product allows anyone to introduce a genuine reclaimed product into their space. We're routinely amazed at some of the things our customers have accomplished with Timberchic in their homes and businesses."
Timberchic is milled from centuries old logs harvested from the bottom of the Penobscot River in Northern Maine. These old growth logs offer unmatched hues and a tightness of grain that no longer exist in farmed wood. A 100% USA product, Timberchic uses a premium 3M™ adhesive to ensure the veneers will never cup or shift. Timberchic is sealed with an environmentally friendly Cabot® coating, so it's easy to clean and is treated with a Vermont Natural Coatings ® PolyWhey® Wood Finish to achieve Class A flame spread rating.
To view Timberchic in This Old House's top 100 new products of 2015 list, please visit: http://bit.ly/1NaYFvA
###
About Timberchic:
Timberchic, located in Millinocket, offers rare river-reclaimed, peel-and-stick wood veneers. These high-quality wood products are created using sunken virgin growth timber lost to Maine's Penobscot River during the logging gold rush and have been preserved under nature's cover for over 100 years. Timberchic carefully reclaims this limited supply of logs in order to yield exquisite wood products of the utmost quality that are truly available nowhere else. Timberchic's peel-and-stick, river-reclaimed wood veneer products are available for purchase online at http://www.Timberchic.com.
Media Contact: Zach Lewis, People Making Good PR, Zach(at)peoplemakinggood(dot)com, 802.448.5518