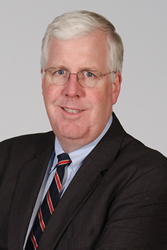 Sherin and Lodgen is extremely well-positioned to service the rapidly changing legal needs of our clients in a variety of traditional and emerging industries.
Boston, MA (PRWEB) November 09, 2015
Boston law firm Sherin and Lodgen LLP is pleased to announce that longtime Real Estate Partner Douglas M. Henry has been named firm Managing Partner, effective November 1, 2015. Henry was elected to the position by unanimous vote and succeeds Ronald W. Ruth, who served in the role from 2008-2015.
As Managing Partner, Henry will provide strategic leadership and direction, overseeing client, recruiting and community initiatives for the firm, which includes 40 lawyers specializing in real estate, litigation and business law. Additionally, he will continue to represent clients in a broad range of commercial real estate matters, with a particular focus on representing lenders in the financing of complex New Markets Tax Credit transactions and large solar arrays.
Commenting on the appointment, Henry said, "It is an honor and privilege to serve as Managing Partner. With a combination of seasoned veterans and a new generation of dynamic partners in all our practice areas, Sherin and Lodgen is extremely well-positioned to service the rapidly changing legal needs of our clients in a variety of traditional and emerging industries. In addition to providing outstanding advice and service to our existing clients, I am also very excited about growing the firm's new initiatives, including our burgeoning Solar Energy Practice Group and the Outside General Counsel Program of the Litigation and Professional Liability Practice Group".
Henry joined Sherin and Lodgen as a partner in the firm's Real Estate Department in 2005. Admitted in Massachusetts and Maine, his practice includes the representation of banks and other community development lenders, real estate investment trusts, real estate developers, public and private companies, independent power producers, and other corporate and individual clients in connection with complex lending transactions, downtown and suburban development, affordable housing and community development, hotel and hospitality, office, industrial, and retail projects. Prior to joining the firm, Henry was chair of the Real Estate and Environmental Practice Group at Testa, Hurwitz & Thibeault, LLP in Boston.
Former Managing Partner Ron Ruth will remain co-chair of the Environmental Law Group, continuing his active practice in environmental, real estate and land use law. Ruth said, "This is an exciting time of growth and opportunity for our firm. Doug's leadership skills and practical insights are ideally suited to lead the firm and advance our mission of providing excellent client service and high-quality legal counsel."
About Sherin and Lodgen LLP
Sherin and Lodgen is a mid-sized Boston law firm specializing in real estate, litigation, and business law. With 40 attorneys, the firm handles complex matters, while providing responsive, senior-level attention to every matter. Known for its effective, efficient and focused representation, Sherin and Lodgen delivers sophisticated analysis and a high level of service by developing an in-depth understanding of clients' business goals, issues, concerns and emerging industry trends.